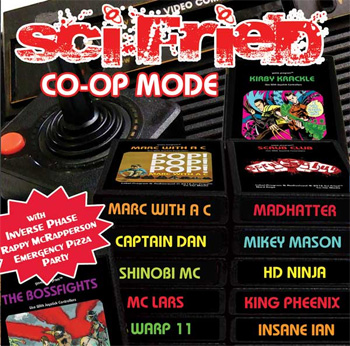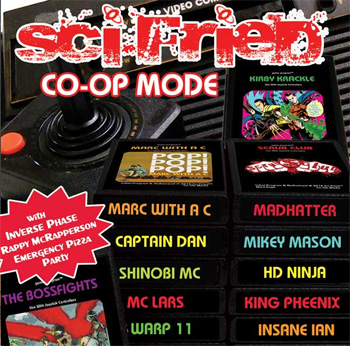 Ever since I heard that Sci-Fried was collaborating with various other nerdy artists for their newest album, I've been very excited. Considering that last year's Future Tense was one of my favorites of the year, I knew that this would be something special. The band came up with the idea for collaborating with other bands at Nerdapalooza when they saw several other artists working together on stage. With artists like Kirby Krackle, MC Lars, and The Bossfights (among many others), Co-Op Mode is a solid contender for favorite of 2012. Fittingly, the album doesn't officially release until next week at Nerdapalooza, but I managed to score a preview copy.
Leading off the album is the only non-collaborative track, a lounge version of "Evil Dead Guy" from Future Tense. I really love Richard Cheese, so of course Sci-Fried lounging it up on this track about Ash makes me happy. The first collaboration, "Software Pirate," is with Captain Dan (an obvious choice). It's an enjoyable Jimmy Buffett-esque track about online piracy. Up next is one of my favorite tracks on the album, "Geeks Rule the World" with Emergency Pizza Party and Rappy McRapperson. I love geek-power anthems, and Sci-Fried and EPP deliver a great addition.
Put two great geek rock bands together and you're bound to get some great tracks. That's the case on Co-Op Mode. Of course, the first single from the album, "Never Fall" with Kirby Krackle, was featured on my list of songs about The Avengers. If you haven't checked it out yet, you really owe it to yourself to do so. "Co-Op Mode," the collaboration with The Bossfights, has also been released on Wired's GeekDad HipTrax. But as much as I love Kirby Krackle and The Bossfights, the best rock collaboration has to be with the Star Trek band Warp 11. Sci-Fried strike me as big fans of the Klingons, so it make sense that this track, "A Good Day to Die," would be about them. It also works well as the closer of the album.
In addition to the band collaborations, there are, of course, individual artist collaborations. Marc with a C and Sci-Fried have worked together many times before, so it's no surprise that he'd make an appearance. His track, "Cannibal," takes a slightly different look at the whole zombie apocalypse idea. If you can't beat 'em, join 'em, I guess… Mikey Mason also gets a track with the band. He's the perfect choice for "Wanna Be Your Jedi" given his propensity for songs about geek love. And of course I have to mention MC Lars's contribution, "Hardcore Casual Gamer." I love the idea of a hardcore gamer who only plays casual games like Angry Birds. It seems like an oxymoron, but I'd be willing to bet they exist.
Once again, Sci-Fried have delivered a great album. The addition of collaborators was an inspired idea. If you're a fan of Sci-Fried but haven't heard some of the other artists, you can get a feel for their music from this (which actually happened to me with Insane Ian). Sci-Fried will be playing many of these songs at Nerdapalooza along with their collaborators, so there's one more reason to go. They'll also be performing at GenCon, a convention which I used to attend many years ago when it was in Wisconsin (in the '80s. Yup, I'm old). If you're up near Indianapolis, you really ought to check them out.
Captain Dan and the Scurvy Crew
,
emergency pizza party
,
Kirby Krackle
,
marc with a c
,
MC Lars
,
Mikey Mason
,
music-
,
Reviews
,
Sci-Fried
,
The Bossfights
,
warp 11