Up this month, I'm finally getting around to some releases that I've been meaning to review for some time. There's also a return of someone we haven't heard from for a while, even though we probably should have. Let's get to the music, shall we?
MCMD – Leaf Tag (Explicit)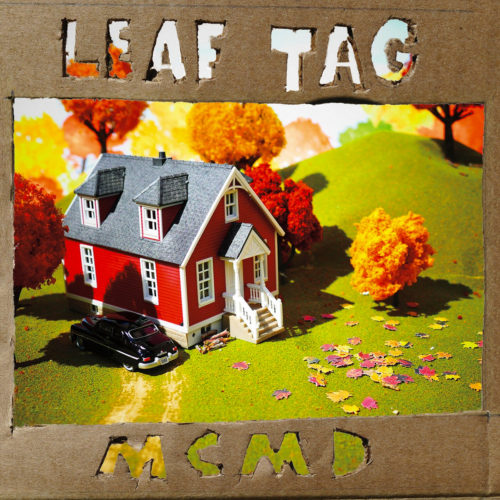 For some reason the Dedicated Servers sort of fell off my radar for a while, so I was really glad when MCMD sent me his newest solo effort. In keeping with the recent trend of more personal albums, Leaf Tag relates MCMD's own attempts to wrestle with his past and present (and a bit into the future as well).
On the past side, tracks like "Rappers I Listen To" (which features fellow Dedicated Servers bandmate, Dave the Fave) and "Leaf Tag" show us Matt's influences both on the hip-hop side as well as the geeky side. I think pretty much anyone in my generation can identify with these lines from the title track: "As a child I played with childish things / As a man I put those things away / 'cause they're worth more now when they're mint in box / and I need Ching Ching to buy some video games." A brilliant twist on the original quote about growing up.
There's also a dark side in the middle of the album, metaphorically signaled by the opening line of "Black Winter Night" (also featuring Dave the Fave): "And the weather just got cold." That track is about the hardships of providing for a family, something that's later brought up in a more positive light in the track "Heart of Gold." Both of the next tracks are political; in fact, the next one is called "Political Discourse," a commentary on our government. Similarly, "Greed Is Greater than God" takes on not just our government but our whole society.
After a brief "Interlude," in which we hear what I assume is audio from a video tape from Matt's youth, the album ends on with several much more upbeat tracks, including the aforementioned "Heart of Gold." Even "A1C," in which MCMD finds out that he has diabetes, manages to keep up the positivity because the disease doesn't bring him down. And the final line of the final track, "Land Before Rhyme," which outlines the rise of the Dedicated Servers, ends with the question, "Where do we go from here?", hinting at the possibilities of the future.
All in all, Leaf Tag is a worthy journey that deserves far more attention than it seems to be getting if the Bandcamp sales are anything to base it on. Go grab it now and support some great music!
Death*Star – Disk Space and Death*Star Goes Broad (a couple of tracks on Disk Space are Explicit)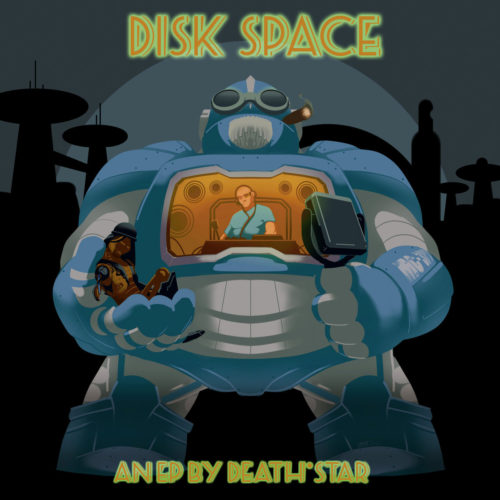 Speaking of the next generation of nerdcore artists, Death*Star returns with not one but two new EPs. The first, Disk Space, features songs about video games. From the old school ("Space Rocks," about Asteroids) to the newest games ("Diamond in the Rough," about Fallout 4, a track that gets stuck in my head surprisingly frequently), they cover quite a bit of ground. There are even some humorous skits about video games, along with some great guests, including Zilla Persona and Klopfenpop.
Death*Star Goes Broad, on the other hand, is a four song (plus skits) EP celebrating women in geek culture. By three white cisgender heterosexual males. Actually, as humorous as Death*Star can be, I know that they do take feminism seriously. And they did manage to get Twill Distilled to join them on "Dudesel in Distress," so that should lend them some cred, I think. As a fellow white cisgender heterosexual male, I completely understand how difficult it can be to talk about women in geek culture without coming across as sexist, and that may also bias my opinion, but I think Death*Star have successfully created some good, positive music about women.
Sammus – Infusion (Explicit)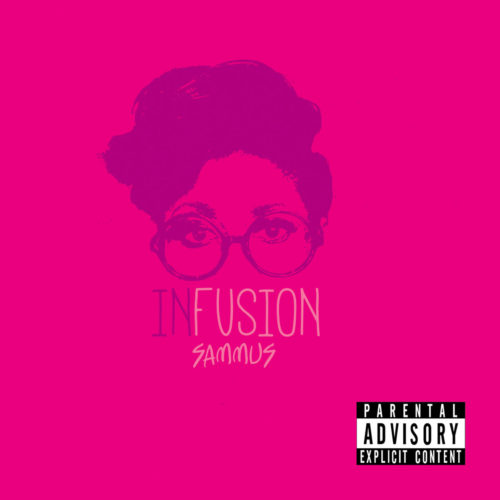 I think probably the biggest reason that I haven't yet reviewed this album is simply that it took me a long time to come up with a good angle on it. It's hard to say that this is Sammus's best album to date, even though that's certainly true, because I'm pretty sure I've said that before in the past. But, then, I kinda just did say it after all. Ya know what? Let me just get into it and tell you how awesome it is!
Let's start off with the first single, "1080p". It's an incredible journey into the trials and tribulations of life with an apt metaphor for our time: seeing the world clearly after going to therapy becomes seeing the world in 1080p. But the ability to handle one's emotions effectively isn't necessarily all good, as we see in the final track, "The Feels" (ft. Baba Doherty). Sometimes it's precisely that loss of emotional control and getting caught up in "the feels" that leads to the most productive and creative art. But then that also makes for a life with much more drama. Finding that balance isn't easy.
Or maybe we're just different people in different situations. In fact, that's exactly what "Mighty Morphing" is about. Using the metaphor of the Power Rangers, Sammus points out the complexities of our personalities. We can morph from one type to another, mostly seamlessly. And we can change over time, as well, as in "Time Crisis". There are certain expectations of women in particular as they age, and sometimes that can lead to an identity crisis. Maybe as a society we should start to change that, though it won't happen overnight.
If you've been following Sammus's career over the last few years, well, you probably already have this album. But if for some reason you've missed out, you really owe it to yourself to jump on board the bandwagon. She's absolutely amazing, and this album truly shows off her skills.