This month I bring you a new band, an epic three album series, and some funny music. Yup, it's quite the diverse bunch for this one. On to the music!
There aren't many glam rock bands in the geek music scene (the Protomen, maybe?), but it does seem like something that should exist. Enter Lipstick, who sent their new album to us at Fandomania recently. Their music captures the spirit of '70s and '80s glam rock / glam metal with a few obvious nods to geekdom. I mean, how many artists have written songs about 1930s actresses ("Merle," a song about Merle Oberon, best known for her portrayal of Cathy in the 1939 version of Wuthering Heights)? If that's not quite geeky enough for you, how about a song about the Flash (called, appropriately enough, "The Flash")? Or one about Fight Club (yup, it's called "Fight Club")? There's even a song about Dan Simmons's Ilium, a book which sounds like one I'd really enjoy (I read and loved Hyperion, and this sounds just as cool). Those last two tracks will be on the Deluxe Edition which will be released on June 3 while the other two are on the regular edition as well. As if all of that wasn't enough, they also have a great mascot, Mr. Cool, the coolest cat around. If you like glam rock, this will definitely be right up your alley. And even if you don't, I think you'll find something on the album to enjoy. I know I have!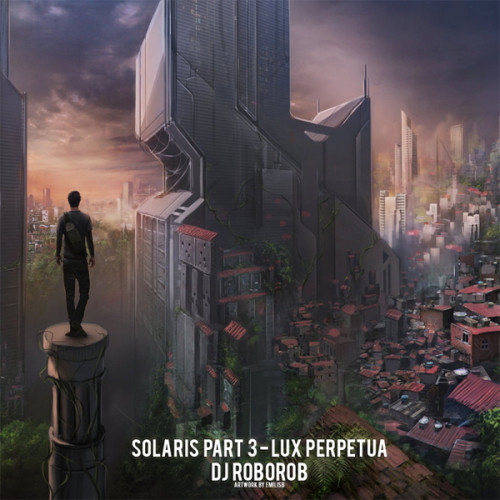 If you have somehow managed not to discover DJ RoboRob by now, this is the perfect jumping on point for his unique blend of EDM / techno / dubstep / electronica. Part one takes us on a journey out from Mercury ("88 Days") to Jupiter ("Jupiter"), stopping off at each planet (and the "Great Divide" of the asteroid belt) along the way. Particularly noteworthy is "Cytherean," the track about Venus, with its Super Mario Brothers coin-grabbing sound as a sly reference to the Venus fly traps / Piranha plants from the game. Part two returns us to earth (Terra) with some originals and remixes, including a brilliant remix of Schäffer the Darklord's "The City" from his amazing Sick Passenger album. Finally we end up with part three, Lux Perpetua, the mellowest of the trilogy. I suppose it could represent that feeling of being at home and relaxing after a long journey, though I'm not sure how the title fits that idea. Regardless, tracks like "Forget X" (with its inclusion of a line from River in the Firefly episode, "Objects in Space") and "Glitch" (featuring Starby) make this a fitting ending (or is it?) to the trilogy.
My exploration of comedy music continues with Bonecage's most recent album, Fish Food. This one has particular resonance with me since it's steeped in 80's references of all sorts. Take "Nathan the Predator," for example. It's told from the perspective of a sensitive Predator who doesn't really want to kill people but ends up doing so anyway. Or "Benny's Song (Five Kids to Feed)," about the Johnny Cab driver from Total Recall. There's also "No Mas Mermaids," inspired by Little Mermaid, which explores the idea of possible relations between humans and mermaids. Or rather the physical impossibility of those relations. Speaking of relations, there are also plenty of songs about relationships (e.g. "Love Song (Huge Erection)"). Well, OK, maybe not quite relationships with other people, but at least with oneself. If you take my meaning (and if not: there's a song on the album called "Makeshift Vagina" about a 15-year old boy. I think that should give you enough of a hint). Musically, this album fits nicely into the nerd rock genre, at times reminding me of Primus ("Soup Beans and Cornbread," for example) and Presidents of the United States of America ("Grandma's House"). I'm really glad that I discovered this album; it's exactly the kind of funny music that I love, right up there with Devo Spice, the great Luke Ski, and Insane Ian. Check it out; you won't be disappointed!