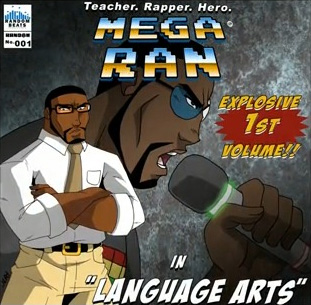 Mega Ran, aka Random, the creator of the Final Fantasy VII album, Black Materia, is publishing three EPs, a comic book, and a video game that are all interconnected. He's been working on the project for three years, and now he has more than enough funding for his project. BUT, if he can get just a little bit more, he can add even more cool stuff, including videos and radio promotion. As a fan of Random, and an English teacher, I definitely felt a need to promote this as much as possible.
What I'm Getting
I've opted for the $25 level (which is, for the most part, where my Kickstarter contributions hover since it's what I can usually afford). This level includes digital copies of the three EPs and the video game soundtrack plus signed physical copies of Vol. 1 and the comic (along with Facebook and Twitter shoutouts).
What Else Is Available
The lower levels mostly include digital copies of the EPs and comic, although the $10 level includes a physical CD for Vol. 1 (but no versions of the other two volumes). If you want everything in digital form, you should opt for the $24 level.
The highest level that's actually been funded is the $500 level: "FOR THE GAMERS: digital copies, all 3 LA CDs, comic, poster, T-shirt, video game soundtrack, name in the game credits, USB containing special early art proofs from the game and comic, physical discography of ALL OF Random CDs, a personal thank you freestyle recording, and YOU GET TO HELP DESIGN A LEVEL in the GAME! you also get mentioned in the game and comic under EXECUTIVE PRODUCED BY." There's only one of these left!
If you're really loaded, there are plenty of other opportunities to travel with Ran so check those out, too!
What Else Is Cool
Famed composer Bear McCreary is working as associate producer. You need more? Other collaborators include mc chris, MC Frontalot, MC Lars, Storyville, Wordsworth, Punchline, Ariano, K-Murdock, Writers Guild, and many more. Oh, and everyone gets the video game for free, even if you don't contribute!
Hurry out now and contribute — this one ends on Friday, May 4!