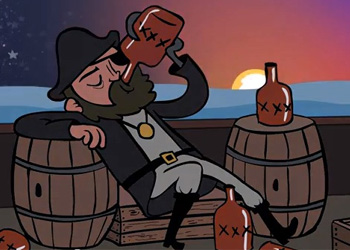 Chad originally posted this list in 2011, and we're bringing it back for an encore on this year's most piratey of holidays!
Arr, mateys, in honor of International Talk Like a Pirate Day, here be twelve tunes about pirates. From semi-traditional sea chanties to raps about computer pirates, all of your piratey needs are covered here. This list is brought to you by the letter "Arrr!"
1. "Talk Like a Pirate Day" – Tom Smith
Of course we have to start off with the official song of ITLaPD. And what a fine way to start, too. Yo ho!
2. "Rap Like a Pirate" – Captain Dan & the Scurvy Crew
Check out Captain Dan's official video for the single from the new album. The song was also featured on Fandomania's podcast #162 along with my interview with Captain Dan.
3. "Be Like a Pirate" – Mind Over Matter (NSFW)
They may not rap like pirates, but Mind Over Matter performs a groovy rap about pirates.
4. "Singapore" – Tom Waits
While the song itself is not necessarily about pirates specifically, adding in the Pirates of the Caribbean video certainly brings out the feel of the music. Besides, I doubt I'll ever get to feature a Tom Waits song on any of my lists.
5. "Fire Down Below" – Nick Cave (NSFW)
Another unlikely candidate for this column, Nick Cave performs two tracks on a compilation called Rogues Gallery: Pirate Ballads, Sea Songs, and Chanteys. This one tells the story of a pirate's run-in with the parson's daughter.
6. "You Don't Know Jack" – the great Luke Ski
No surprise that Captain Jack Sparrow would show up somewhere on this list more than once. Here's a song about him by the great Luke Ski.
7. "Pirate Life" – Sci-Fried
Geek rock band Sci-Fried gets in on the pirate music with their own jaunty number complete with steel drums.
8. "The Pirate Song" – George Harrison
George Harrison sneaks his pirate song (with "My Sweet Lord" intro) on to Eric Idle's TV show. What's not to love about that?
9. "Airship Pirate" – Abney Park
A slightly different take on pirates, these pirates terrorize the skies in their airship. Steampunk FTW!
10. "The Last Saskatchewan Pirate" – The Arrogant Worms
Pirates in the prairies of Canada? Sure, why not? And when winter comes, they'll just head down to New Mexico!
11. "Warez Loader" – ytcracker
Pirates aren't just on the high seas or in the air. Some of them are on the computer. It's highly appropriate for ytcracker to rap about warez since he was once a high profile hacker himself.
12. "The Captain's Wife's Lament" – Paul and Storm (NSFW)
Paul and Storm's awesome closing number from the show that I saw in Atlanta during Dragon*Con. The video quality's not great, but occasionally you can see my ball cap peak out in the audience's shadows near the front of the stage on the right (at least I'm pretty sure it's me). Yup, I'm vain. :)
Abney Park
,
Captain Dan and the Scurvy Crew
,
George Harrison
,
Lists
,
Nick Cave
,
Paul and Storm
,
pirates
,
Sci-Fried
,
the great Luke Ski
,
Tom Waits
,
ytcracker