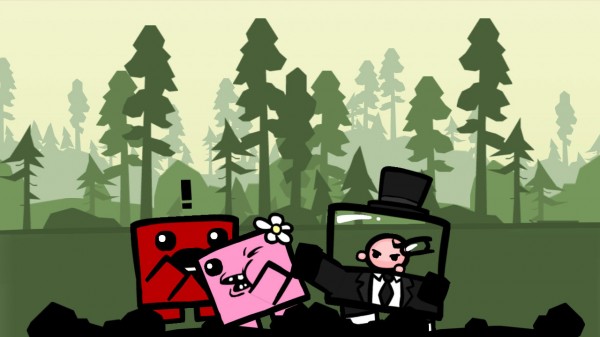 Game: Super Meat Boy
Platform: Xbox Live Arcade
Developer: Team Meat
Designers: Edmund McMillen, Tommy Refenes
Release Date: October 20, 2010
Rated: T – for Teen
When you load up a platformer game, it's a safe bet these days that you're about to play something way harder than your modern day namby pamby roleplaying shooter hybrids have prepared you for. Years of games being nice to us have made us soft and unprepared for true challenges. And then arrives Super Meat Boy, the newly crowned king of the Xbox Live Arcade. Meat Boy didn't earn his crown through royal succession or democratic voting. Rather, he beat up, wore down, and humiliated everyone he encountered before plopping the kingly headpiece onto his moist red brow.
The Story
As stories go, Super Meat Boy has a uniquely weird one, but would you really expect anything less from a game with origins on Newgrounds? The follow up to the hit Flash game Meat Boy, Super Meat Boy puts players in charge of the eponymous character, a blocky, squishy little dude with a big smile and a propensity to trail meat juice and blood everywhere he runs. Meat Boy's girlfriend is Bandage Girl, a similarly blocky little pink gal with a daisy on her head. Meat Boy and Bandage Girl are living in bliss until the jealous Dr. Fetus arrives on the scene to create problems. Dr. Fetus is a little guy inside a robot that is dressed in a black and white suit and sporting a top hat and monocle. A robot with a monocle. I couldn't make this stuff up.
Dr. Fetus snatches Bandage Girl away, and it's up to Meat Boy to rescue her. He travels through several worlds, each of which features a big array of individual levels and each capped with increasingly bizarre boss fights. At the end of each level, Meat Boy nearly saves poor Bandage Girl, but then Dr. Fetus always knocks her on the head and scurries away with her to the next level before you can say, "Our princess is in another castle."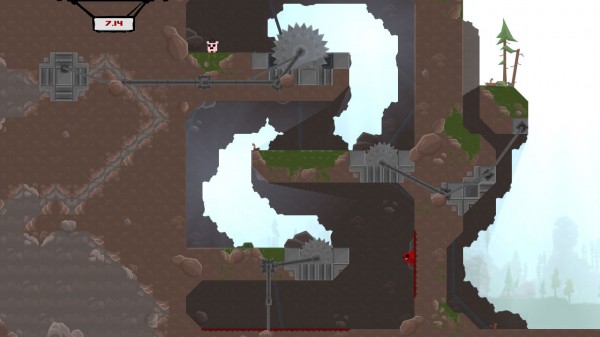 The Gameplay
Super Meat Boy's bizarre tale unfolds with cartoony Flash-style graphics that are perfectly suited to its weirdness. The game itself is firmly rooted in the school of classic 2D platforming, but don't expect it to be a cakewalk. On the contrary, this game's ridiculously intense difficulty is guaranteed to prod unspeakable words from the mouths of any brave enough to play. Super Meat Boy walks a very thin line on the razor's edge of frustration. You'll be loving the game and hopelessly addicted to playing at the same time that you're deciding you hate the game, your controller, your TV, the room where you're playing, anyone in said room with you, and any planet where this game could have been created. It really is that hard and that much fun.
Nearly every level demands a huge amount of precision and timing, and you'll have to memorize exact placements for jumps, turns, and runs as you kill Meat Boy over and over in your quest to progress through the game. The game's difficulty is punishingly hard, but you'll always feel like you're just on the verge of clearing whatever obstacle you've run up against. That's something I didn't get from two of XBLA's other brutal platformers, 'Splosion Man and Trials HD, both of which are fun games that eventually put the hammer down and make it clear that finishing the game will be an impossibility. Super Meat Boy actually rewards your failures once you finally complete a level. It records all your previous attempts and plays them back all at the same time so that you'll get to watch a horde of Meat Boys all running through your prior tries and all dying spectacularly while one lone little dude prevails and finishes the level with your final successful attempt.
In all, Super Meat Boy has more than 300 levels to throw at you, with a promise of many more on the way via DLC before the end of the year. In addition to the regular levels, there are a bunch of warp zones and hidden levels, as well as opportunities to unlock secret characters, collect bandages scattered throughout the levels, earn Avatar pieces, and grab achievements. Even if you make it all the way through the game, there will still be way more to do through replays than you're ever likely to complete.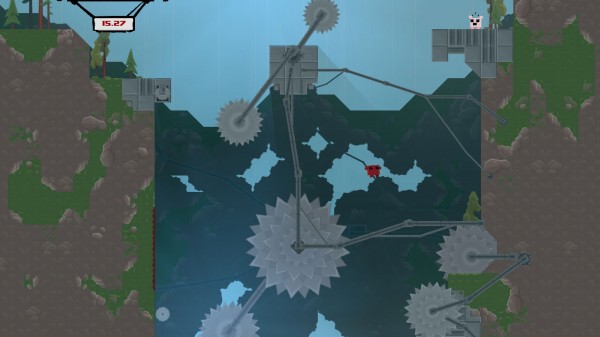 Conclusion
Super Meat Boy excels in every area. It's full of weird and goofy humor and characters. It's instantly understandable and is a paragon of the platforming genre. It's hard enough to make you want to throw your controller but fun enough to make you keep it in your hands, playing. If you have any interest in the Xbox Live Arcade or in 2D platformers, Super Meat Boy is a game you need to play. It's destined to be a benchmark for super hard platformers in the future, and it's one of the best downloadable games released on the Xbox 360 in a long time. Even better, it's part of Xbox's Game Feast promotion right now and is for sale at a reduced price if you buy it soon.
Get this game, and play it until your thumbs hurt and your forehead is sweaty. You'll thank me.