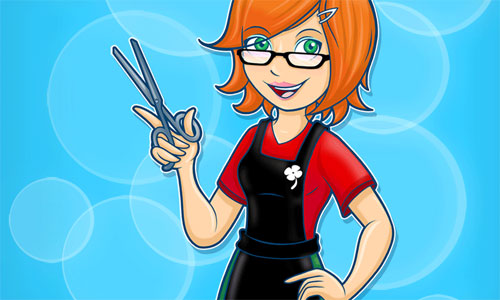 Enterprising redhead Sally is no stranger to the realm of phone games, and this week she opens a new franchise on the Windows Phone 7 with Sally's Salon Luxury Edition. The Sally games have been big hits on other mobile platforms, and the original Sally's Salon gets a makeover of its own with this new deluxe version.
Sally's Salon is one of the best examples of the time management game genre that just became popular over the last few years. Such games typically put the player in charge of running a business or doing some sort of service task. Accomplishing that task successfully involves performing a number of sub-tasks, usually for the benefit of customers or clients who show up periodically with new requests. The genre combines strategy with dexterity as players have to quickly prioritize tasks and make sure all the task components are functioning correctly in order to keep all the customers happy. At times it's not unlike keeping plates spinning on top of poles.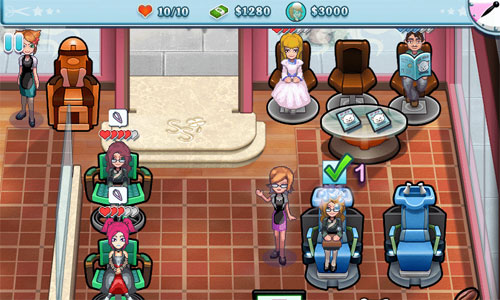 Other time management games have had the player serving customers in a diner and checking guests into a hotel, and the Windows Phone 7 even has a Star Wars time management game based around running a cantina on Tatooine. Sally's Salon fits snugly into the format by slipping players into the apron of Sally, an ambitious beautician who wants to make it big in the salon world. The game's story mode begins with Sally running a small beauty salon on her own. She gets a slow trickle of customers at first, each of whom might want a haircut or a washing. She'll earn money as she satisfies their requests by shuffling the customers back and forth among the different salon stations, eventually having them check out at the cash register.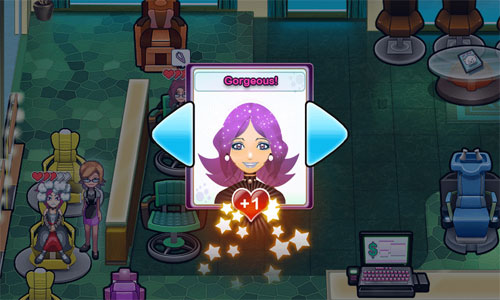 Each "day" of the game has a flow of customers going in and out of the shop, and Sally has a different goal number to hit with her earnings before closing time. If she satisfies that goal, she can move on to the next day. Once enough days have been completed successfully, Sally can upgrade to a bigger shop and move into some new digs. As the shops get bigger and more elaborate, the customers become more demanding and more varied in their demands. They also become less patient, ramping up the difficulty and the need for Sally to prioritize better and to work more quickly. Fortunately, there's an opportunity between each day's mission to spend some of that hard earned dough on upgrades to the shop, each of which will make future days more manageable.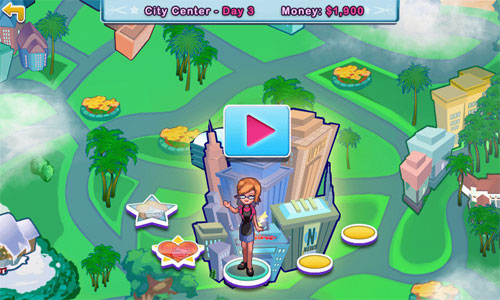 The upgrades range from hiring additional workers to upgrading waiting area chairs to buying better shoes for Sally (so that she can move from station to station more quickly) to getting a coffee machine and magazines to help satisfy some of the less patient clients. Buying the upgrades is a satisfying reward after a hectic round of tapping and sliding customers around the salon, and most of the upgrades provide immediate and obvious improvements for Sally and her growing staff.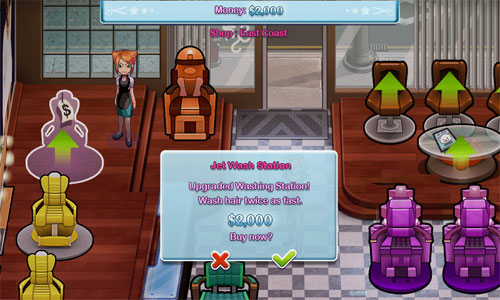 This Luxury Edition expands upon the original Sally's Salon by adding several new types of customers into the game and by bundling five brand new salon locations into the campaign. If you enjoyed the original game on another platform, this version will bring you back into the fold with lots of new gameplay. As with all the Xbox Live games on the Windows Phone 7, this edition also includes unlockable achievements to help boost your Xbox gamerscore.
I am a fan of time management games in general, and Sally's Salon has been one of my favorites for a long time. It's a welcome addition to the Windows Phone 7 library, and it's a perfect selection for on the go gaming in short bursts or in long sessions.