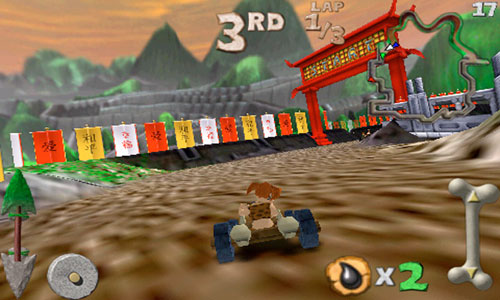 Before I jump into my review of this week's new Xbox Live game release on the Windows Phone 7, I must preface with a note about my personal history with kart racing games. I'm a huge fan of regular racers, having plowed through countless Need for Speed and Burnout titles, as well as having spent an adequate amount of time in various Forzas and Project Gothams. Racing has always been one of my favorite game genres… and then came Mario Kart. I just can't wrap my head around the zipping and zooming insanity of kart racers that require more of me than just staying ahead of the competition. As soon as I start having to make breakneck turns while chucking blue turtle shells at the other racers, my hand-eye coordination goes out the window, and I'm demolished. It was with some trepidation, then, that I saw the new Windows Phone 7 game for this week is Cro-Mag Rally, a caveman kart racer that originally released on the iPhone in 2008.
As it turns out, my trepidation was entirely founded, because I am terrible at playing this game. It feels like I spend more time crashing into walls and going the wrong way on the tracks than I do actually driving competitively. And yet, somehow, I've managed to win a couple of races even after massively borking my laps. I suspect my wins were thanks more to the game's AI being forgiving and doing a little rubber banding to keep the other racers from outpacing me than to my own racing skills. Due to my ineptitude with kart racers, Cro-Mag Rally isn't going to be a game I'll return to, but that is entirely independent of the merits of the game itself. I just wanted to get all of that out of the way before delving into the actual game itself.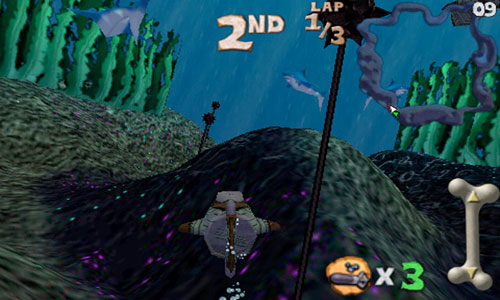 Cro-Mag Rally starts in the Stone Age and gives players a choice of driving as either Brog or Grag. The only difference between the two characters is that Brog is a caveman and Grag is a cavewoman. The differences in characters is entirely cosmetic and has no effect on the gameplay. Your selection of vehicle does affect the gameplay, though. You can choose from an assortment of historically based karts that range from the Mammoth Mobile to the Trojan Horse to a Chariot. Each of the vehicles is unique and has its own speed, acceleration, traction, and suspension stats that affect its performance in races. You'll also get to choose from several different racetracks that will take your cavepeople from their prehistoric Desert home to ancient Crete to Atlantis, an underwater level.
The wide selection of karts and racetracks provides for some great variety. The track theming is fun, with dragons attacking the racers on the Great Wall level, trolls menacing the track on the Vikings level, and yetis and polar bears roaming the Glacier track. You're likely to settle on one particular kart you like best and use that for the rest of the game. The tracks and carts are dynamic and colorful, but the graphics are pretty blocky and look rather dated, when compared to other recent Windows Phone 7 releases. As I said before, Cro-Mag Rally first surfaced on the iPhone nearly three years ago, and it's a shame the graphics weren't prettied up since then for this new Windows Phone 7 release.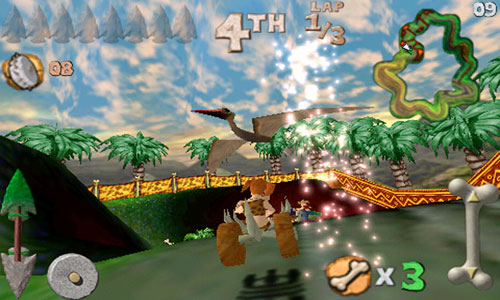 The gameplay itself is fast and furious as you guide your kart around the crazy tracks and try to impede the other racers by collecting and then throwing out an array of items such as bones and oil splats. The kart steering is handled by the accelerometer in the phone. Tilt left to turn left, and tilt right to turn right. By default, the steering is extremely sensitive, so you'll probably want to turn that down in the options screen. There's no real acceleration for the kart. Instead, you'll pretty much always be going or not going. The forward and backward movement is toggled with controls on the left side of the screen. It does get a little awkward, having both controls on the left when you're trying to steer frantically. The game definitely would benefit from moving the forward control to the other side of the screen for the right thumb to hit. Similarly, items can be thrown out by hitting them with your right thumb.
As with all the Xbox Live games released on the Windows Phone 7, Cro-Mag Rally offers some new unlockable achievements you can use to pad out your gamerscore. The game is priced at $2.99, which is at the low end of the usual price range for Xbox Live games on this platform. Even so, I don't connect enough with kart racers in general or this one in particular to give it a big recommendation.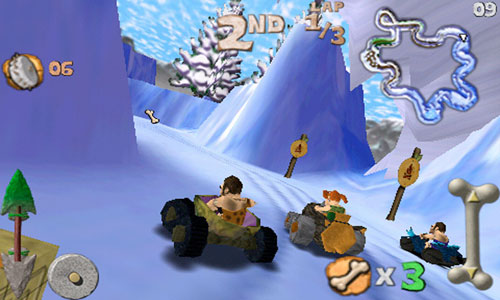 I can, however, heartily recommend that you drop $2.99 on ilomilo, which is this week's Xbox Live Deal of the Week on the Windows Phone 7. ilomilo is a brilliant and fun puzzle game that previously released on the phone but is getting a temporary price cut this week. I didn't get the game when it originally hit, but I grabbed it at the special price this week and can't say enough good things about it. If you're more of the puzzle game persuasion than a kart racer fan, check out ilomilo this week and then come back next week for Sudoku and Minesweeper, both releasing for free on WP7.