You've probably heard of the Game with Fame Xbox LIVE events that we've been promoting in conjunction with Cornerstone Promotions (and if you haven't, where the hell have you been?). These events are so popular that Fandomania and Cornerstone are proud to announce the first in a new Xbox LIVE celebrity event series called Film with Fame. If you have an Xbox LIVE Gold membership and an interest in horror movies, you're in luck because the first Film with Fame event is scheduled for this Friday, February 19th with guest Rob Zombie. Fans chosen to participate in this event will watch a portion of The Devil's Rejects with Rob Zombie, who will provide a live director's commentary on the cruel and sadistic activities of the Firefly family.
Not familiar with Rob Zombie and/or The Devil's Rejects? Rob Zombie is a musician, film director, screenwriter, and producer best known for founding the heavy metal band White Zombie in 1985 and for several of his films, including his directorial debut, House of 1000 Corpses, as well as his remake of the 1978 horror classic Halloween. Just last summer Zombie released Halloween II, the sequel to his 2007 Halloween remake. Despite the extreme level of press garnered by Zombie's reboot of the Halloween franchise, he is still best known in the film sphere for House of 1000 Corpses. In addition to directing House of 1000 Corpses, Zombie also wrote the film's screenplay and helped compose the soundtrack.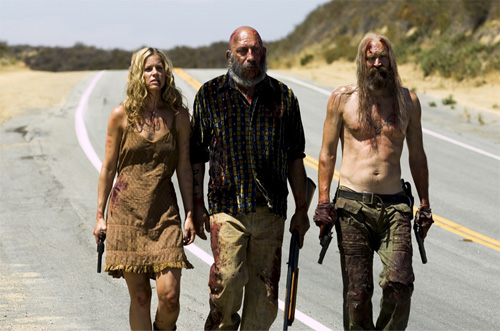 Similarly, Zombie also wrote and directed the sequel to House of 1000 Corpses, The Devil's Rejects, which was released in 2005. The Devil's Rejects picks up where House of 1000 Corpses left off, following the Firefly family while they're on the run from the law. While House of 1000 Corpses gained popularity for its often comedic and bizarre style, Zombie uses The Devil's Rejects to showcase a much darker, grittier and more serious film style.
The full information for the Rob Zombie Film with Fame is listed below:
Xbox LIVE Film With Fame with Rob Zombie
Date: Friday, February 19, 2010
Time: 8-10 p.m. EST / 5-7 p.m. PST
Movie: The Devil's Rejects
Gamertag: RobZombie GwF
Want to participate in the first ever Film with Fame event? There are a few easy steps you have to take in order to be eligible for participation:
Send a friend request to the gamertag that Rob Zombie will be using for the event: RobZombie GwF
Download the Zune Marketplace application onto your Xbox 360 console (it's free!);
Visit the Zune Marketplace and choose to rent (standard definition: 240 MS Points; high definition: 360 MS Points) or purchase (standard definition: 800 MS Points; high definition: 1440 MS Points) The Devil's Rejects
Be sure to download the movie onto your Xbox 360 console and be online half an hour before (7:30 p.m. EST/4:30 p.m. PST) the event is scheduled to begin
You'll know if your Gamertag was chosen to participate in this Film with Fame event if you receive an Xbox Live party invitation from Rob Zombie's Gamertag, RobZombie GwF, this Friday afternoon/evening. If you are selected to participate, we encourage you to send an account of your experience to xboxgwf@live.com, using the subject "FWF – Rob Zombie". Be sure to include your gamertag and home town — recaps of the event will be posted from gamers across the country!
For information on the Film with Fame Rob Zombie session, visit the event's web page. To check out future Film with Fame and Game with Fame events, you can follow the official Game with Fame Twitter account.
Note: Only Xbox LIVE Gold members can access this event. To sign up for an Xbox LIVE account or to upgrade your existing Gamertag, visit the Xbox LIVE web site. If you plan to participate in this event, please be sure to send friend requests to the gamertag listed above (make sure you include the spaces!) and log into your account at least half an hour in advance (7:30 p.m. EST/4:30 p.m. PST).