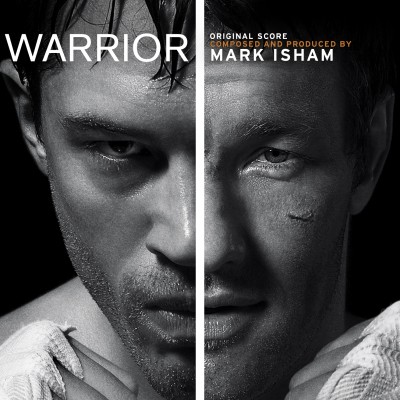 Album: Warrior
Composer: Mark Isham
Label: Lakeshore Records
Release Date: September 13, 2011
Composer Mark Isham has said, "the score for Warrior has an extremely wide dynamic and dramatic range; perhaps more than any other score I've composed." While this may be true quantitatively (there is definitely a wide range musically between certain cues), it is still a far cry from his best work qualitatively.
Isham is a veteran name in film music these days; he has been scoring movies since the early '80s, and his work has spanned a number of genres. In his career, he has moved swiftly between jazz-scores, orchestral scores, and electronic scores with varying degrees of success.
For Warrior, Isham's choice of instrumentation relies heavily on a small-sounding orchestra of strings/brass/percussion, a faded-sounding solo cello, layered guitar work, and extensive '80s-style synth programming. The overall result is that the music often feels like a relic of the '80s. Listening to the album, I can imagine parts of it fitting perfectly into a tense, over-acted '80s drama. The effect is so strong, in fact, that I imagine it had to be a conscious decision on the part of the director and composer. The score is not without a number of modern movie music conventions, however.
The opening track, "Listen to the Beethoven," sets the mood for the score nicely with tremolo strings, synths, and quiet electric guitar work giving way to a series of slow string chords. Guitars gradually come to the front of the mix, the music builds, and as the percussion enters things takes a turn for the bizarre. Beethoven's "Ode to Joy" from his 9th Symphony is overlaid dramatically on top of pulsing strings, percussion, and brass. While there is clearly a dramatic reason this is included in the music, it does feel slightly out of place on album (and almost like a bad Muzak version of the famous classical piece).
The rest of the score's running time is made up of a few different styles. Tracks such as "Paddy & Tommy" and "I Can't Watch You Fight" feature soft synth pads, long sustained notes, and gently shifting textures augmented by distant electric guitar and cello. By contrast (showcasing the "range") are cues such as "Sparta – Night One" and "Koba" which feature long stretches of relentlessly pulsating guitars and percussion, again augmented by '80s-style synth work.
A few recent film music conventions do manage to work their way into the music. Most notably is the "Media Ventures" sound popularized by Hans Zimmer that can still be heard in many a summer blockbuster. While the instrumentation may be slightly different in Warrior, the anthem-like string/brass/synth progressions should sound familiar to most movie-goers and film-score-listeners. Certain cues such as "Brendan and Tess" and the second half of "I Can't Watch You Fight" also feature hints of Thomas Newman-like Americana writing in the piano.
While a lot of the writing is solid — clearly the work of an experienced composer — my main problem with the score on album is that very little of it is memorable. There is very little here to excite the ears, and the moments that do stand out quickly fade into the soundscape of relentless percussion and synth work. Also, the performance feels slightly joyless, and despite a great deal of movement in the writing, very little excitement is ultimately generated by the music.
That is not to say there is nothing to like here. A decent — if unmemorable — theme emerges in a few tracks such as "Koba" and the finale cue, "Brendan & Tommy." "The Devil You Know" opens with a nicely orchestrated build made up of layered guitar parts building to support a nice descending melody in the high range. "Warrior" introduces a tolling bell into the mix above a tentative horn solo building to a dissonant synth-ending. There are also some nicely orchestrated builds and soundscapes that Isham creates through clever use of synths mixed with building low brass chords and tremolo strings.
If certain aspects of this review are beginning to sound repetitious, it's due to the nature of the score. On album, it is a workman-like score with little to take away once the disc is finished.
Interestingly, the song at the end, "About Today" by The National, closes the album nicely. The song uses similar instrumentation as the score (technically the other way around actually), but manages to generate some real energy, ending the album on a relatively high note.
Fans of modern film scores will almost definitely find much of this album enjoyable, but ultimately forgettable.
Track Listing:
"Listen to the Beethoven"
"Paddy & Tommy"
"Sparta – Night One"
"I Can't Watch You Fight"
"Koba"
"Hero"
"Brendan & Tess"
"The Devil You Know"
"Stop the Ship (Relapse)"
"Warrior"
"Brendan & Tommy"
The National – "About Today"
Additional Listening Recommendations also by Mark Isham:
Crash – Another synth-heavy drama score
Life as a House – A beautifully orchestral drama score
The Cooler – A jazz-heavy score with Isham on solo Trumpet
Rating: 3 / 5 Stars