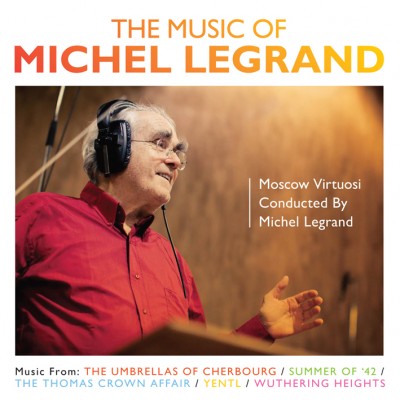 Album: The Music Of Michel Legrand
Composer: Michel Legrand
Performed by: Moscow Virtuosi
Conducted by: Michel Legrand
Label: Silva Screen Records
Release Date: September 13, 2011
Are you familiar with the music of Michel Legrand? At the age of 79, the French-born Legrand hasn't been working much in Hollywood these days. One reason this may be is that his style of music has gone out of fashion… especially in Hollywood.
Listen to any track picked at random from the newly released 2-disc set The Music of Michel Legrand and you will instantly hear what I am talking about.
Melody! Woodwinds! Orchestral Flourishes Galore!
Most importantly, though… one of the rarest of all musical characteristics: Wit.
If "witty" orchestral music seems like a foreign concept, I think the perfect place to begin exploring it can be found in the music of Michel Legrand. The endlessly clever melodies and orchestrations sound wonderfully fresh on this album. Legrand employs every section of the orchestra — both individually and in concert — with a masterful hand in his arrangements. This is music that is both fun to listen to AND to play, and this joy comes across in the recording.
To be fair, many of the melodies collected here are instrumental arrangements of popular songs Legrand has written for films dating as far back as the '60s. Some are still well known today ("The Windmills of Your Mind" and "What Are You Doing The Rest Of Your Life," for example). Legrand's arrangements do not simply rest on popular versions of the songs, however. He takes the melodies in new directions, crafting new, highly enjoyable concert works.
The highlights of this set are literally too numerous to list here, so I'll stick to just a few. The opening track from The Umbrellas of Cherbourg begins with a shy little melody for harp and strings that moves into the woodwind section before blossoming into an epic, full-blown orchestral showpiece with a truly grand conclusion. "Once Upon A Summertime" features the first full on jazz influences (Legrand is himself a jazz pianist at heart) with slow muted horns, piano, and sultry brass chords. Such care is taken in creating musical "texture" here. Rapid, quiet, upward-moving "violin runs" underneath jazz percussion create a unique flavor in the music that isn't typically heard today.
"I Was Born In Love With You" opens with low, pounding percussion, high woodwind chords, and dramatic low string notes for a truly gothic sound befitting Wuthering Heights. Interestingly, this track transitions into a Gershwin-style jazz piece for its middle section… a product of its time, no doubt.
I could go on: The achingly beautiful oboe solo over horn, harp, and tremolo strings in "Gable And Lombard." The exciting string runs and super-fast trumpet work in "The Hunter." The list goes on.
So, why only four stars instead of five? Sadly, there are a couple of downsides to this release. First, the performance. While the Moscow Virtuosi are a competent ensemble, they are far from perfect, and some flubbed notes here and there occasionally mar the recording. Some of the full orchestra passages also seem a bit "loose." It never sounds downright bad, but the playing should be tighter, especially considering the difficulty of some of the music. A few odd choices have also been made on this set. "Dingo" contains a slightly confusing vocal performance that is sometimes off key, and always at odds with the orchestra. "Di-Gue-Ding-Ding" ends with an old school fade out rather than a true ending, and also sounds out of place on this album.
Before I come down too hard on the performances though, I want to mention that the solo instrumental performances are often excellent. Extensive harp solos on tracks such as "The Umbrellas of Cherbourg," "Concerto," and "The Summer Knows" showcase some virtuosic playing.
In the end, the performance issues are a minor annoyance when considering this set. The music "as written" is strong, and as I said earlier, there is a joy that you can hear in the recording that adds to its charm, even with a flubbed note here and there.
I definitely recommend The Music of Michel Legrand, especially if you're unfamiliar with his music and want a taste of a previous era in film music history. This is engaging, beautiful music that deserves to be heard.
Track Listing:
Disc 1:
"Les Parapluies de Cherbourg (Theme)" (From Les Parapluies de Cherbourg)
"Concerto" (From Les Demoiselles De Rochefort)
"Once Upon A Summertime (La Valse des Lilas)"
"The Summer Knows" (From Summer Of '42)
"Di-Gue-Ding-Ding"
"Brian's Song (Theme)" (From Brian's Song)
"Dingo (Theme)" (From Dingo)
"I Was Born In Love With You" (From Wuthering Heights)
"Gable And Lombard (Theme)" (From Gable And Lombard)
"Watch What Happens" (From Les Parapluies de Cherbourg)
Disc 2:
"The Windmills Of Your Mind" (From The Thomas Crown Affair)
"Le Mans (Theme)" (From Le Mans)
"The Hunter (Theme)" (From The Hunter)
"Un Parfum De Fin Du Monde" (From Les Uns Et Les Autres)
"What Are You Doing The Rest Of Your Life?" (From The Happy Ending)
"The Way He Makes Me Feel / Papa, Can You Hear Me? / A Piece Of Sky" (From Yentl)
"La Dauphin Oum" (From Oum Le Dauphin)
"Maries De L'An 2" (From The Scoundrel)
"The Three Musketeers (Overture)" (From The Three Musketeers)
"Family Fugue
Additional Listening Recommendations also by Michel Legrand:
A Woman is a Woman – On Criterion DVD (as you watch the film), eclectic but wonderful
Madeline – A taste of a more modern Legrand working in America
The Umbrellas of Cherbourg – In the film, beautiful music/singing as dialogue
Rating: 4 / 5 Stars