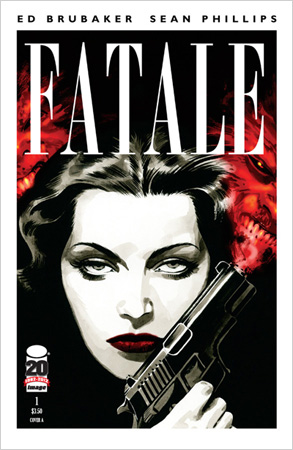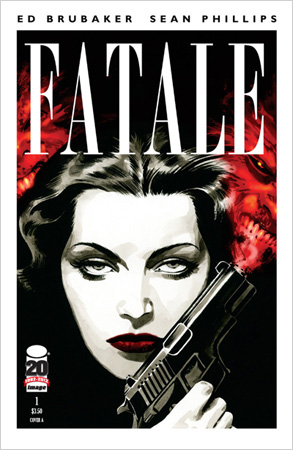 Issue: Fatale #1
Release Date: January 4, 2011
Writer: Ed Brubaker
Art: Sean Phillips
Colors: Dave Stewart
Covers A & B: Sean Phillips
Publisher: Image Comics
If you're interested in the first issue of the new comic series from Ed Brubaker and Sean Phillips and you don't already have a copy in hand or in the mail then you're probably out of luck, at least for a little while. Fatale #1 went to a second printing before the issue even went on sale this past Wednesday, making it Image Comics's first new hit series of 2012.
Thanks to our friends over at Image, we received a copy of Fatale #1 and after reading it I can assure you that it's worth the wait if you decide to order a copy from the second printing (set for release on February 1st, when issue #2 comes out). Fatale is a horror noir comic set in 2012 that involves an ageless, seductive femme (one of my favorites!), an immortal demon mobster (think Cthulhu in a pin-stripe suit), and a laundry list of casualties resulting from the pair's decades-long struggle.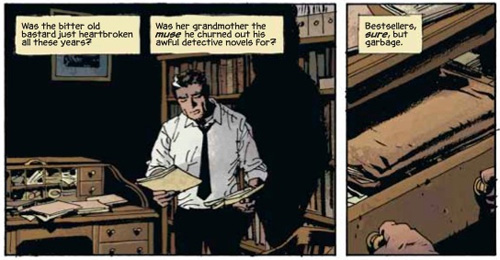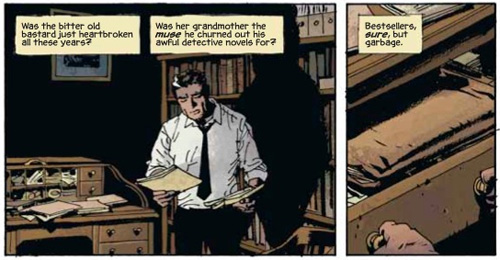 Speaking of casualties, I think it's important to point out that Fatale #1 is another one of Image Comics's more gory series. Although not as artistically rendered as the blood and guts in Vescell, for example, Sean Phillips's illustrations combined with Dave Stewart's colors (largely black and white, dark shades, and a whole lot of red) get the job done. The pair certainly aren't shy about depicting gruesome murders, dismembered corpses, occult symbols drawn in human blood, etc. and the blood starts flowing less than a third of the way through the first issue.
The overwhelming positive response to Fatale #1 is certainly warranted, although personally I think that some of the hype the issue has received thus far has more to do with the fact that it's a Brubaker-Phillips collaboration than with the subject matter, storyline, or even the well-written characters featured therein — an unfortunate disservice to the strength of the series's inaugural issue. Based on Fatale #1, it looks like Image has another winner on its hands, and I'm sure the next few issues will be as good as the first, if not even better after being liberated from laying the groundwork for the series by this first issue.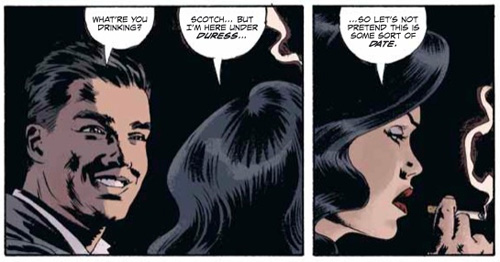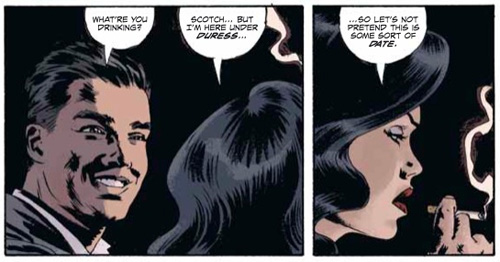 The most impressive aspect of Fatale #1, and the one that would amount to the greatest disservice not to mention in this review, is the series's femme fatale, Josephine. Unlike many comic book femmes, Josephine is the perfect balance of sexy and competent — an important update to the classic femme fatale trope that allows her to speak to contemporary readers, male and female alike. Obviously, Josephine spells trouble for the men she's involved with, but it's not for the reasons you'd think.
Fatale #1 closes with Brubaker and Phillip's usual exclusive illustration and an article written by Brubaker himself; in it he discusses how he felt as he finished writing the issue, a little bit about how the story came to be and the team's influences, updates on developments with his other series (apparently Brubaker is working on a screenplay for the movie adaptation of the first Criminal book, Coward), etc.
It's clear to me from the first issue alone that Fatale has a lot of potential, and with Brubaker and Phillips at the helm I'm sure at least some of that potential will be realized as the story progresses and the characters develop. I recommend picking up a copy, especially if you enjoy comic books like Hellboy, Abe Sapien, or any of Brubaker and Phillips's past collaborations.
Rating: 4 / 5 Stars