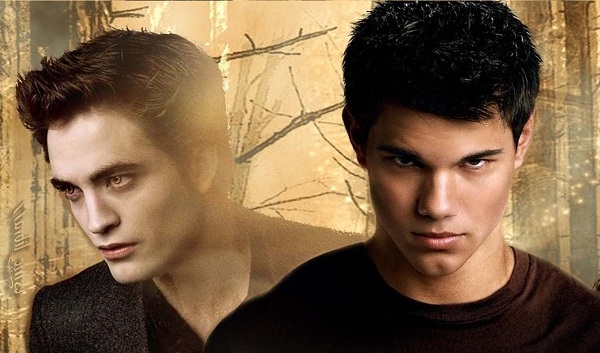 Back in 2008 Paramore did a song for some movie named Twilight. I had no clue what it was about, but there was some talks of it on MySpace (whoa, flashbacks). Anyways, Paramore was going to do a free performance in Hollywood to promote the song/movie and some of the cast was going to be there. I walked into that pseudo-mall, and quickly realized this Twilight thing was bigger than I ever expected. Fans lined the levels of the outdoor shopping center and screamed louder than a packed Super Bowl arena. The movie was apparently a huge deal and that had a lot to do with the multiple signs professing their love for whoever these Robert Pattinson and Taylor Lautner fellows were.
Four years later, we're at the end of an era as Breaking Dawn: Part 2 hits theaters November 16th, and I for one could not be happier. These two guys might be eye candy for the masses, but I'll stick to Hershey's Kisses if that's the case. I love their fans' intensity, but at the end of the day I don't want to live forever with either the vampire or the werewolf. But to those who have stalked these men at Comic-Con, prayed to be Kristen Stewart's "Bella", or have slept for days just to see them at the premieres… Kudos to you. You are the reason Twilight has made a notch in pop culture history.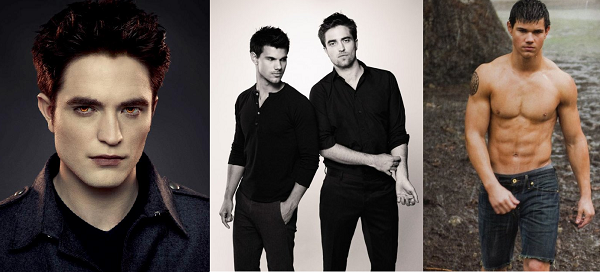 Name: Robert Douglas Thomas Pattinson
Birthday: May 13, 1986
Place of Birth: London, England
Best Fansite: robertpattinson.org
Name: Taylor Daniel Lautner
Birthday: February 11, 1992
Place of Birth: Grand Rapids, MI
Best Fansite: taylor-lautner.com
Best Known For
Robert Pattinson and Taylor Lautner could go on to make a million movies between them, but they'll forever be "Edward" and "Jacob" from the Twilight series. It doesn't matter that Robert was a part of the Harry Potter realm or that in recent years he starred alongside Oscar winner Reese Witherspoon in Water For Elephants, you see him and he's just sparkly Edward Cullen. Now as far as Taylor's concerned, being known as a werewolf might be a good thing since before Twilight he was "Sharkboy" in The Adventures of Sharkboy and Lavagirl. It's crazy to think just three years after that, he sported a horrible long haired wig and became a worldwide heartthrob.
6 Quick Robert Pattinson & Taylor Lautner Facts
If you're planning a night in with Robert and want to impress, have some Doctor Who on hand.
Taylor was only 17 when he hosted Saturday Night Live, making him one of the top 10 youngest people to ever take that job on.
Robert has an unexpected musical past: "When I was 14, I fronted a rap trio. Pretty hard-core for three private school kids from suburban London. And my mum's, like, cramping our style, popping her head in to ask, 'You boys want a sandwich?'"
After packing on 30 pounds of muscle to play the beefy werewolf, Taylor's body didn't go unrecognized; he was ranked #1 in Access Hollywood's "Top Five Hollywood Abs" in 2008.
Robert has great fashion sense and doesn't like when women wear UGGs; he actually finds it very unattractive.
When Taylor hits up Coldstone, he probably heads for his favorite, the cake batter ice-cream.
Reasons You Love Robert Pattinson & Taylor Lautner
Whether you're "Team Edward" or "Team Jacob" is very important in the Twilight sphere. It's all about which kind of guy you'd rather have by your side. Robert's "Edward" is a sparkling vampire who will forever look like a senior in high school, and Taylor's "Jacob" is a werewolf whose body is as rock hard as the side of a mountain. Each guy represents a different side of what one would want and give in a relationship, but in the end you know no matter what, they'd both fight for you. Robert and Taylor are pretty boys who play into a fantasy world that most of their fans have come to see as real though, because they — well, Robert — still gets asked to bite fans for photos and such… That's not weird at all…
Reasons I Love Robert Pattinson & Taylor Lautner
If there's one thing I can appreciate, it is a hardcore fan base that verges on insane, so for that, Robert and Taylor… I salute you. The most I'd ever seen of Twilight was the overdramatic commercials throughout the years, and I didn't get it. The only vampire thing I'd ever loved was Buffy the Vampire Slayer (the movie, not the show), so I couldn't wrap my head around the phenomenon that spawned from the pages of a book series I knew even less about. Today I can say I have seen about an hour of Twilight and… I still don't get it. I'm not even going to go into my review of the movie, I just don't see it when it comes to the leading men. If anything, there should've been a bigger outburst of "Team Jasper" going on. His knock off "Edward Scissorhands" was pure comedic gold.