Four years ago the guy who made Glee decided that he wanted to have control of another show and in walked American Horror Story. Those who were unaware of people like Jessica Lange and Evan Peters now had a new fandom to attach themselves to and pop culture had a new phenomenon. See, each season gives way to a new set of characters, a new location, and a whole new story. While some actors come and go, some, like the aforementioned two and Sarah Paulson, are key players every time. With all the buzz surrounding the next installment known as Hotel, I decided it was never a better time to talk about why you and I love the hell out of Lady Gaga. Just kidding, sorry to any of her "monsters" that may have tricked. This is all about Ms. Paulson.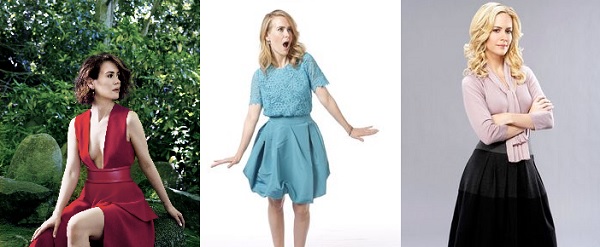 Name: Sarah Catharine Paulson
Birthday: December 17, 1974
Place of Birth: Tampa, FL
Twitter: @MsSarahPaulson
Best Known For
Sarah Paulson is no different from a lot of actors out there when it comes to where she got her start. She was in an episode of Law & Order and then went on to score a role in the one and only season of American Gothic the following year in 1995. Feature films weren't too far behind as she was Juliette Lewis's sister in The Other Sister and also appeared in Mel Gibson's What Women Want. She headed back to TV a year later on The WB's Jack & Jill. After that ended in 2001 she spent some time on Deadwood, Cupid, and on Wisteria Lane. Then all the stars aligned and she got a few episodes in on American Horror Story: Horror House. Not even she could've guessed that four years later she'd still be taking on a new character each season on that show but, alas, she is. She's been everything from a locked up lesbian to a conjoined twin and next she'll play a drug addict on the bad side of Kathy Bates in Hotel.
5 Quick Sarah Paulson Facts
She broke up with her longtime girlfriend, Cherry Jones, in 2009.
Paulson has a lisp.
Jessica Lange wasn't in only in AHS with Paulson, but on stage in Tennessee Williams's The Glass Menagerie.
She was in the Oscar winning 12 Years a Slave alongside Michael Fassbender. Remember? She was his wife who really could not stand Lupita Nyong'o's character.
You may never notice them, but she does have two tattoos.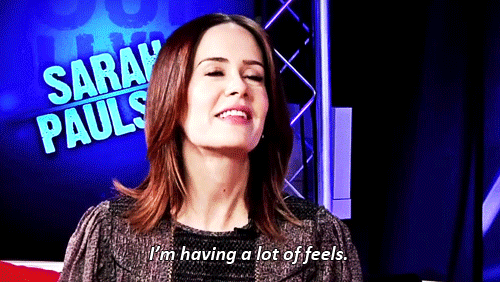 Reasons You Love Sarah Paulson
While it may seem like this woman came out of nowhere in 2011, Paulson has been acting for quite some time — but you knew that. She's appeared on a handful of shows that barely made it through a season and some that are castaways on an island filled with the little shows that very few remember like Cupid and Jack & Jill. It's been quite the ride for Sarah but some of you noticed her skills long ago and have been rabid ever since. You were there when American Gothic happened and you followed her to movie theaters and back to TV, over the moon when she landed on big hits like Deadwood and Desperate Housewives.
Which, speaking of — maybe you didn't follow her career for years and were just a superfan of those two shows. Deadwood was only around a couple of years but it garnered quite the following and with talks of a movie in the works, you can only hope Miss Isringhausen plays some part in it. Then there's the show that made Sunday nights a must-watch event: Desperate Housewives. The drama of Wisteria Lane was insanely addictive and it didn't matter how big or small someone's role was on the show, you welcomed anyone who'd cause some trouble in the neighborhood. That's why when you started seeing Paulson elsewhere you were like, who let Lydia in on something else?!
Paulson has had her share of misses, but the hits she's been a part of have had some of the most dedicated fans out there. Then she of course stepped into the Horror Story realm and that's possibly where your fandom fits in. You may've missed her in Horror House because your fascination with Tate was overpowering but you definitely fell for her in Asylum. She played the ballsy Lana like a champ and when she flipped off Zachary Quinto and made her escape, you didn't think she could get any cooler. Then she became the Supreme, and then doubled her screen time. You're on edge wondering how she'll do as Hypodermic Sally in Hotel, even though you're sure she'll be as amazing as the last few times.
Her characters aside, one reason you've always loved Paulson is that she really doesn't have the "I'm too cool" vibe. She does panels with a glass of wine, isn't afraid to embrace her lisp, and is an overall charmer. Her confidence and laid back personality allow her to stand out from the crowd of egocentric actors that may surround her.
Be it her little shows that never made it, the ones that did and did very well, or her down-to-Earth personality, you love Sarah Paulson with a passion and hope she never abandons you.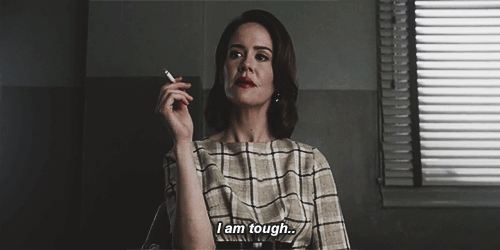 Reasons I Love Sarah Paulson
Horror House was amazing, Asylum had some bumps but was still an overall good time, Coven had one too many holes, and Freak Show was the first time I ever failed to care. My love for Sarah Paulson obviously lies within the confines of the Horror Story anthology, but it's definitely a love/hate situation because sometimes I just can't with that show. Of course it's not her fault. She doesn't write it, put aliens that make ZERO sense in the mix, or get rid of great characters too early. So Sarah, I don't hate you — I hate your writers.
Anyways, looking back over the last four seasons I have to say, despite those horrendous aliens in Asylum, it was my favorite as far as Sarah's performances are concerned. Lana was strong willed and it was admirable that she never backed down and in the end got her story. Will I love her as a drug addict in Hotel? Oh my, it's way too early to even tell if this will be a repeat of last season. A repeat in which I stop watching after a handful of episodes, deem it unworthy of life, and then go about my days. Nevertheless, I will give it a chance.
Sarah Paulson is not at fault for the ups and downs of Horror Story, but it's all I have to judge my love for her on. So when it boils down, I love her ability to take on a new persona each season but the only one I've ever truly cared about is the bold and daring Lana in Asylum. So until she plays a character like that again, that's all I'll love her for.