Remember the days when NO ONE cared about Chris Pratt? It seems like it was just yesterday. Maybe because it was. He was around for years, but all of a sudden he takes one shirtless, chiseled selfie, and he's suddenly everyone's go-to crush. Last year it seemed like everyone was into this guy who up until that point had just been that doofy dude on that Amy Poehler show. Two blockbusters later and he's still on top of his pedestal as he'll soon be in the highly anticipated Jurassic World. While the first trailer looked like something Sharknado threw up, the second one was stellar and now I have to say – let's talk about this funny guy leading man.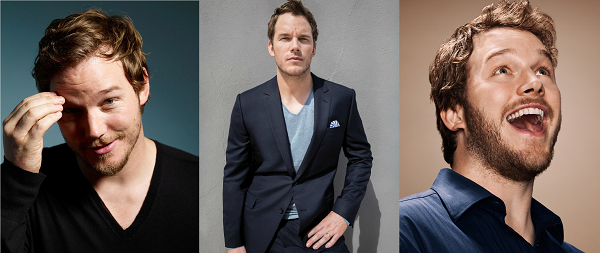 Name: Christopher Michael Pratt
Birthday: June 21, 1979
Place of Birth: Virginia, MN
Twitter: @prattprattpratt
Best Known For
There was a time when Chris Pratt was just some guy that most of us didn't even remember was on that one show Everwood. Remember that one? It had a kid named Ephram and he was with the girl who went on to run Revenge? Well, he was her brother and then later went on to play an oddball on The O.C. No, he wasn't the marvelous Seth Cohen – instead he was this stoner-like hippy named Che. Of course Pratt started to gain more recognition as he went from a weird free loving kid from a Fox show to an even stranger, but more lovable doofus on Parks and Recreation. Andy Dwyer made Pratt a primetime star but he was still only referred to as "that guy" or "Anna Faris' husband." Come 2011 he started taking more initiative in his career; that's to say he started to be in more movies. He went from Moneyball to The Five-Year Engagement. Both had their moments, but they were nothing in comparison to his 2014 hits, The Lego Movie and Guardians of the Galaxy. It was like he was born again and this time emerged from the womb as everyone's must-have. While Parks and Rec is now in syndication heaven, this guy hasn't let that halt him one bit. He's proving that he wasn't a one-year-hit wonder with this year's Jurassic World, and of course he'll continue to be a marvelous success as another Guardians is in the works.
5 Quick Chris Pratt Facts
Was in a show with Saturday Night Live's Kenan Thompson called Wieners.
He used to be told to get out of pictures when he and wife Anna Faris walked red carpets.
While he hasn't been nominated for an Oscar, he's been in movies that have like Zero Dark Thirty and Her.
He was a little boy named Jack.
Pratt wasn't the first choice for Guardians of the Galaxy. Eddie Redmayne was one of the many actors considered when production first began.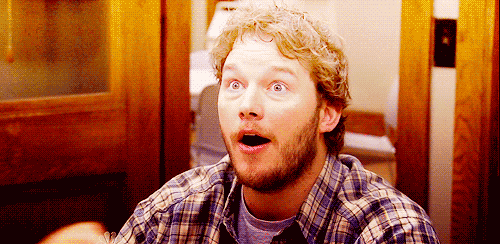 Reasons You Love Chris Pratt
When Chris Pratt started working out for his Guardians role, he posted a picture on his Instagram or Twitter or Facebook – whatever – and it made everyone take notice. Why? Well, before that picture, most thought of this dude as a pudgy, funny guy and basically nothing more. So of course his transformation is what most of you love because let's be honest – there wasn't THAT much light being shined on this guy before then. However, to be fair. There were some of you that have loved him since maybe Everwood and then followed him to Orange County, and then settled down in Pawnee. Or there's the bunch who initially tuned in for Poehler but stayed for Pratt. Whether you are all about the looks and came late to the party, or have been there all along – your love for Pratt really stems from the fact that he's an overall sweetheart.
Okay, you ladies and gents who saw when that six pack went viral and perked up, we all know why you became interested in this guy. So we're going to keep it as short as possible. You saw the shot, and then were overwhelmed when he went shirtless in Guardians of the Galaxy, and that's totally okay. I mean, look at David Beckham. Do we really love him for his talents on the field or his H&M ads?
While I'm in the first group, I like his longtime fans best. You don't really care what shape Pratt is in, as long as he's working and on a screen – you're tuning in. However, you're the fan who has been there, be it from the beginning or right when Parks and Rec was starting out. Anyways, what these fans love most, or rather who they love most is Andy Dwyer. This guy isn't the brightest all the time but two things you've always loved about that character is his positive demeanor and his love of April. Their relationship is what you hope yours is like, or will be like. It makes very little sense, but no matter what – it works because of the amount of love they put into it.
Bottom line though, whether he's acting like a weirdo or just walking down the street, Pratt is one hell of a guy. He's charitable, an amazing husband, a great dad and that's what makes you smile most. There are a lot of actors out there with the talent, charm and looks but at the end of the day they're horrendous humans. That's not the case with your guy and you're proud of that.
Whether it's his six pack, a guy named Andy, or his sweet personality – your love of Chris Pratt is on point.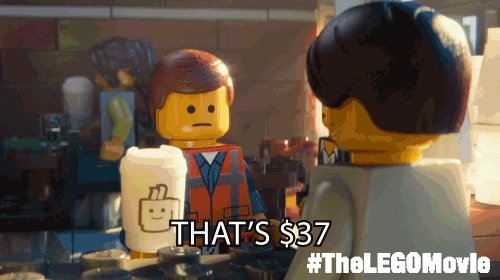 Reasons I Love Chris Pratt
Someone had to remind me that Chris Pratt was the brother from Everwood. I watched that show for some time and never in a million years would I have recalled that little bit of casting knowledge. So no, his role on a show I once loved is not the reason I love him. Nor is his time on The O.C. or in The Five-Year Engagement – a movie that felt as long as the title suggests. That six pack picture was nice and definitely made me do a double take, but the movie I think he was best in was the one we never saw him – The Lego Movie.
It was opening weekend and I walked about an hour to a cheap matinee to see The Lego Movie on opening weekend. I felt like a creep sitting by myself in a theater full of kids, but whatever. Animated movies are one of my favorites. I expected it to be good. The commercials were hilarious and it was something different. Amazing was and is an understatement. Pratt played this ordinary guy who turned out to be this key player in their little universe. Who didn't watch that and get inspired to make more out of their existence?
So moving on and wrapping up. Guardians of the Galaxy was superb, but Pratt wasn't the reason I loved that movie – Groot was. When it all boils down, my love for Chris Pratt can be summed up in an animated movie about blocks; nothing more, nothing less. However, this is subject to change because Jurassic World comes out next week and I'm hoping that it lives up to the first and makes us forget about those other two that never should've happened.