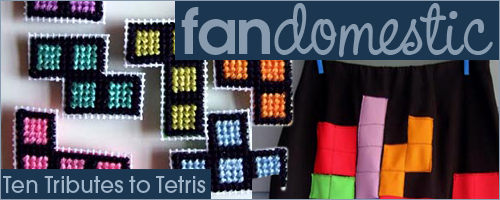 I never owned a handheld game system, but when one of my friends in high school gave me the hookup to play Tetris on my TI-83, I was addicted. For years I carried around a graphing calculator just so I could play while waiting for stuff (and, OK, when bored in class). Clearly I'm not the only one with the habit, as the prevalence of Tetris-inspired products and crafts attests. Here are ten (and don't forget the previously-featured Tetris tile backsplash).
1. Tetris Messenger Bag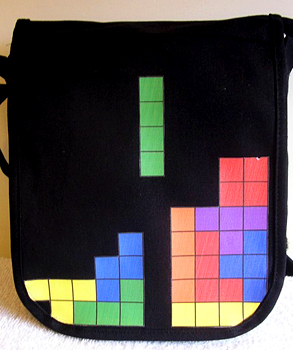 Etsy member 16BIT sells this adorable mini messenger bag in her store, along with many other geeky items. One row's about to disappear!
2. Tetris Bookshelves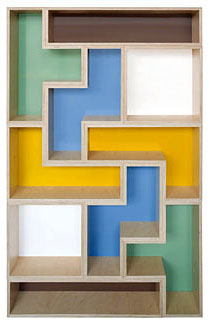 The Tetrad Flat Shelving unit from Brave Space Design comes in separate pieces so you can configure them however you want. At $1315 for five blocks, it's a bit pricey, so if you want the same look for much cheaper, check out this Instructables post on how to build your own.
3. Tetris Fridge Magnets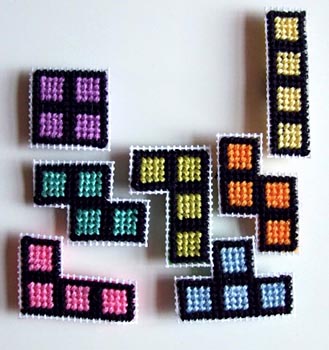 Get enough of these needlepoint magnets from Etsy seller lostmitten and you can play Tetris on your fridge, filing cabinet, or locker!
4. Tetris Skirt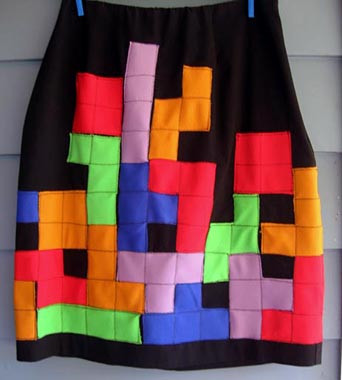 Not all the blocks on this handmade skirt by Etsy member hissyfitoly are just for show — the top two squares are actually pockets!
5. Tetris Brownies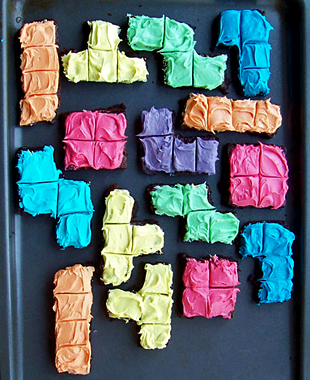 Tetris is fun, but who knew it could be so delicious? Fraske Designs's Tetris brownies would be cool enough plain, but with colored frosting (and pixel scoring) they're awesome.
6. Tetris Quilt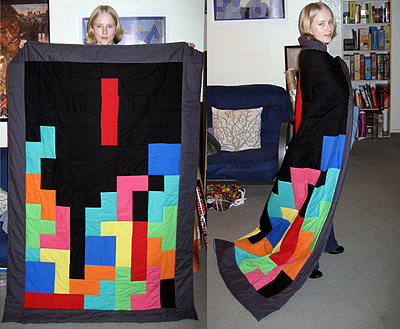 As previously mentioned, pixels make great quilt designs. This one by Amy at Rabbit Style News apparently also functions as a cape. =)
7. Tetris Mirror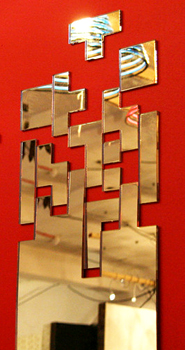 Made from laser-cut acrylic, this mirror by UK designer Soner Ozenc comes in A3 and A4 sizes and can be arranged as you please on your wall.
8. Tetris Necklace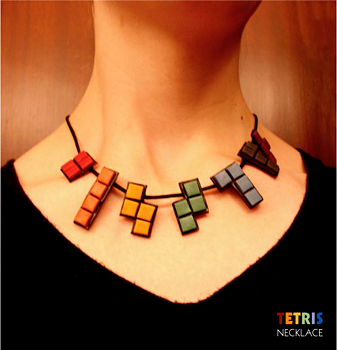 This fantastic necklace by appropriately-named deviantArt member tetris-gollum was made from polymer clay and a simple cord.
9. Tetris Ice Cube Trays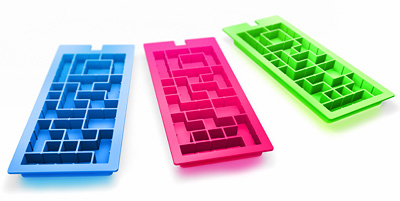 Perhaps as a companion to your Tetris brownies, you can make Tetris ice cubes with these "icetris" (I prefer "tetrice") trays from Russian designer Mystake.
10. Tetris Silverware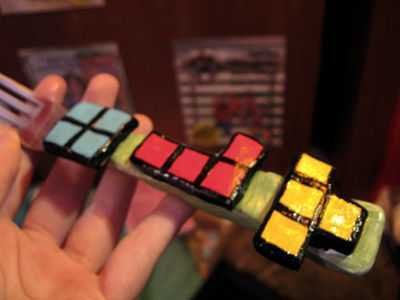 Clay + paint + plain silverware = this awesomely geeky cutlery by susanna-tron at Cut Out + Keep.