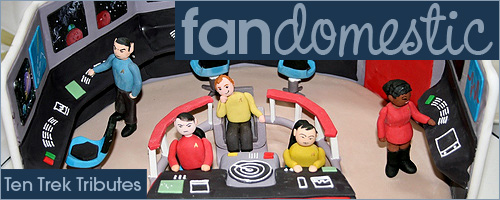 The long-awaited Star Trek prequel film is finally here. What better time to spotlight some of the best Trekkie crafts and products out there? Here are ten, from the handmade to the store-bought.
1. Hand-Painted Trekkie Dress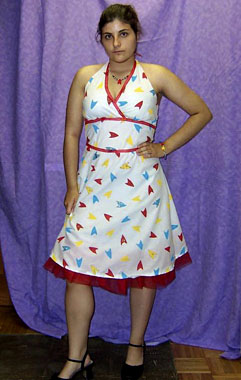 As if this halter dress weren't cute enough, it turns out Craftster member graverobbergirl actually painted the Starfleet symbols onto plain white fabric herself! She also made the cute insignia pendant out of polymer clay.
2. Mirror Universe Amigurumi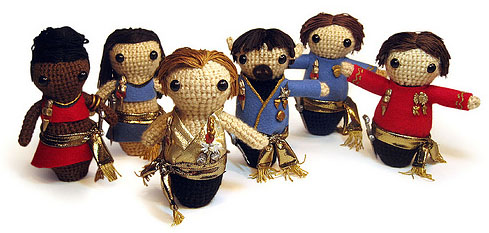 You'll probably remember the Lord of the Rings amigurumi featured here a few weeks ago, made by GeekCentralStation. She's also crocheted this group of Star Trek characters from the Mirror Universe.
3. Vulcan Fingerless Glove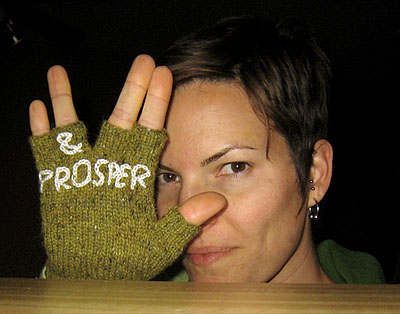 Flickr user tomboyknits made this clever take on the famous Vulcan salute.
4. Enterprise Bottle Opener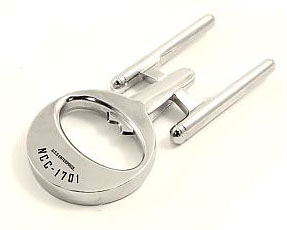 Geeky yet sleek, this bottle opener based on the Starship Enterprise would fit in equally at a con room party and an upscale home bar.
5. Enterprise Bridge Cake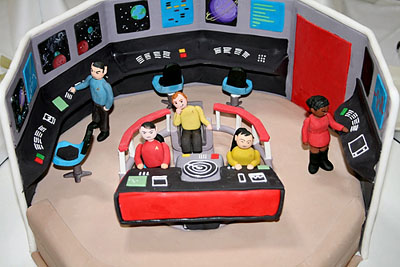 From durham_friedman on Flickr comes this fantastic cake based on the famous Enterprise Bridge.
6. Trek T-Shirts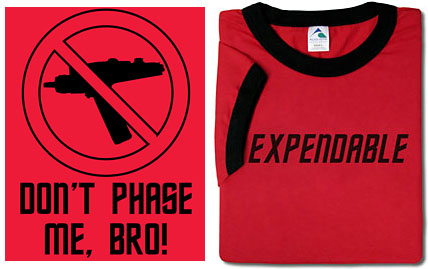 Star Trek + Internet meme + pun = the first of these amusing t-shirts, this one by Ziraxia. The second, from ThinkGeek, makes light of the unfortunate untimely ends met by the crew's red-shirted security officers.
7. Hanging Beads Transporter
Hard to believe, but this art installation of Kirk & Spock beaming in to the Transporter is made of hanging beads. That's right, like those curtains found in hippie dens and stoner basements. It's part of Devorah Sperber's 2008 exhibition Mirror Universe, which also features Star Trek art made from pipe cleaners and spools of thread.
8. Office Supply Enterprise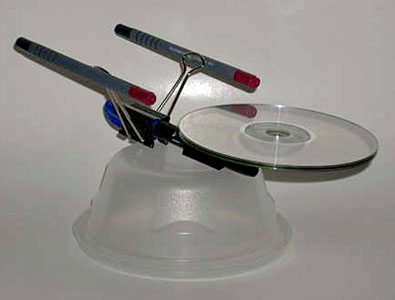 Bored at work? In just a few minutes, you can build your own Enterprise from stuff in your desk. Just follow this handy tutorial at Instructables.
9. Spockboy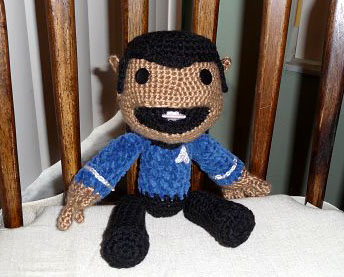 Maggie Wang likes to crochet custom Sackboy dolls (from the PS3 game Little Big Planet). As a gift for a coworker, she made this special "Spockboy" version. How logical!
10. Star Trek Cross-Stitch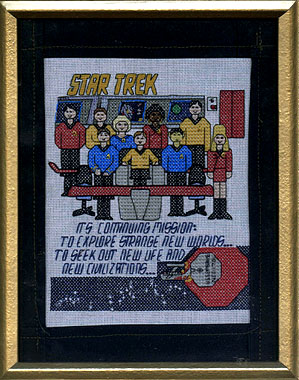 Monica at Vortex Loop designed this cross-stitch pattern of the Star Trek main cast, featuring Scotty, Chekov, McCoy, Chapel, Kirk, Uhura, Spock, Sulu, and Rand.