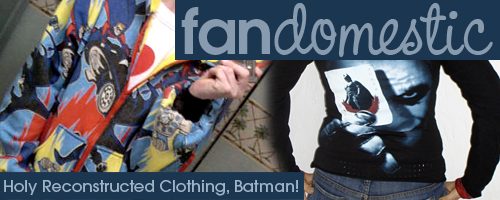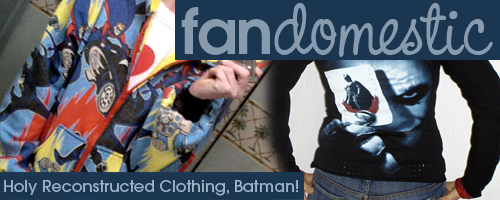 Every self-respecting geek has a few fandom-related items of clothing in his or her wardrobe. But some aren't satisfied with store-bought clothing until they rip it up and piece it back together to create something unique, like these ten reconstructed Batman items. Most of the designers featured here sell their creations online, so be sure to check out their wares!
1. Batman Logo Corset Top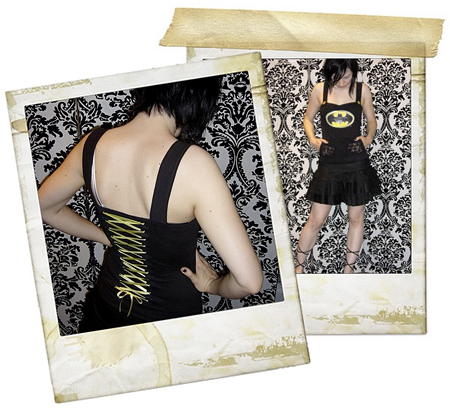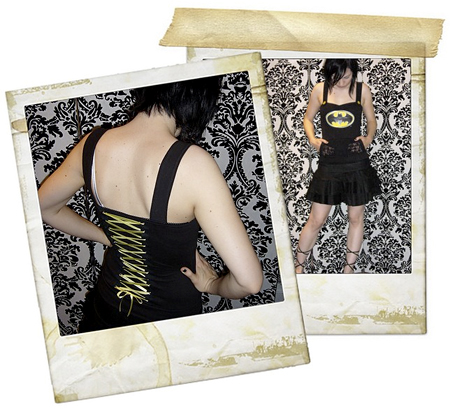 Vivifromage turned a simple Batman logo shirt into this adorable corset top by adding lace kangaroo pockets, suspender straps, and yellow lacing up the back.
2. The Dark Knight Joker Hoodie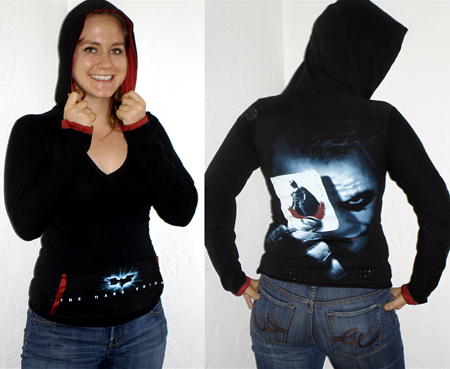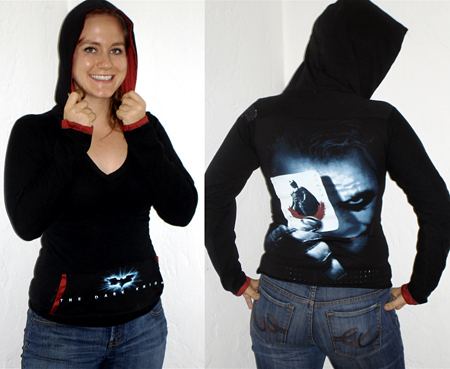 Craftster member Miss Whitney hand-sewed this The Dark Knight hoodie from a Hot Topic t-shirt.
3. Batman Logo Hoodie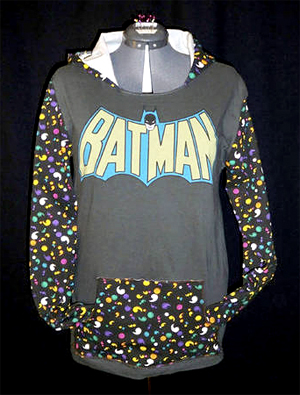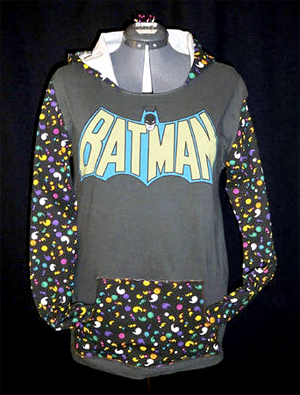 paulinerose of Sew Bitchy designed this hoodie, which combines colorful patterned fabric with an old-skool logo.
4. Batman Logo Outfit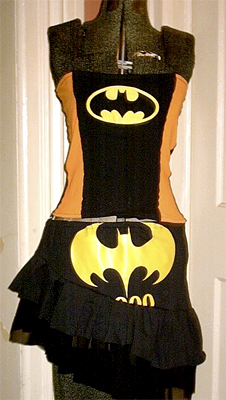 This matching tube top and asymmetrical skirt were designed by Smarmy Clothes, who has made several other Batman items as well.
5. Batman Sheets Hoodie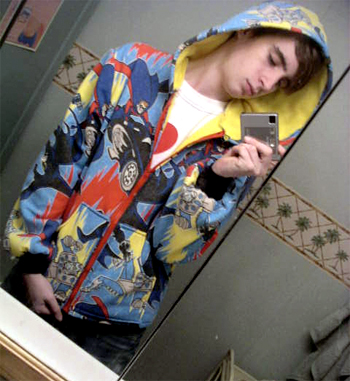 Ryan Moore is the hoodie master. He cranks them out, and they're always amazing. This one he created from old Batman sheets and yellow fleece.
6. Why So Serious? Joker Hoodie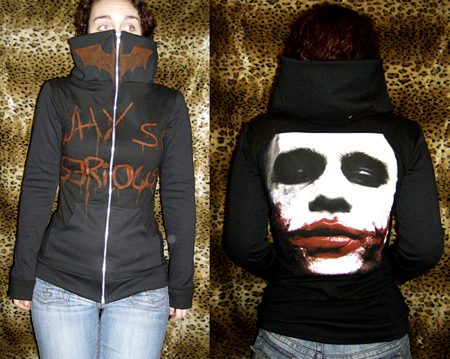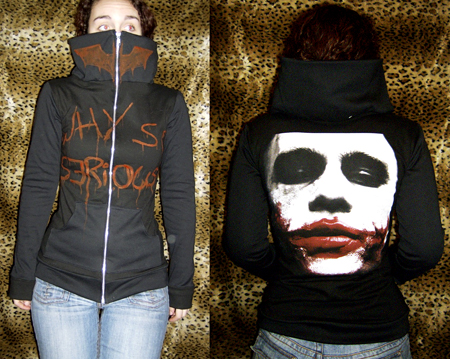 Craftster-er frabjousfrocks made her "Why So Serious?" zip hoodie in time for the midnight premiere of The Dark Knight. She used screenprinting ink to hand-paint the bat and words on the front of the jacket.
7. Batman Tank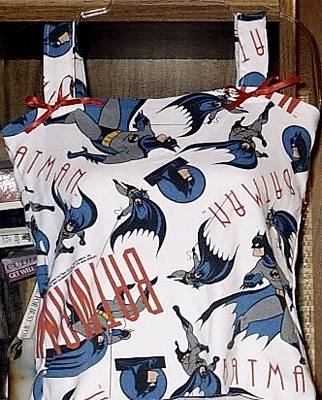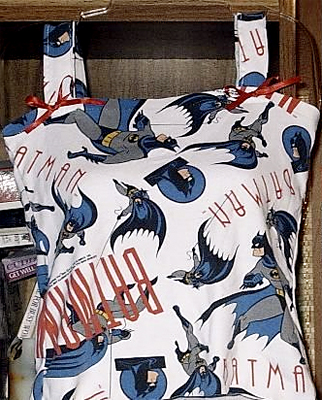 A little boys' sleep shirt was the base for katiekat82's tank top. The bow accents add a nice touch!
8. Harley Quinn & Joker Hoodie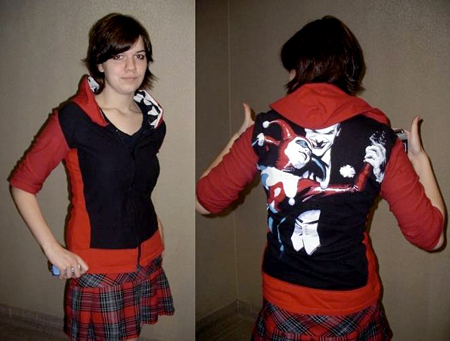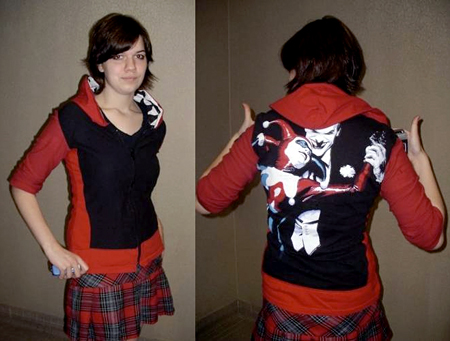 Tallaslint transformed a friend's simple Alex Ross Harley/Joker t-shirt into an appropriately harlequin-esque hoodie with some red fabric and black-and-white-checkerboard lining.
9. Joker Corset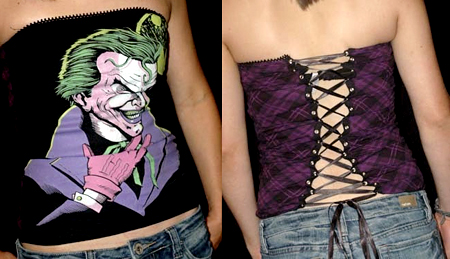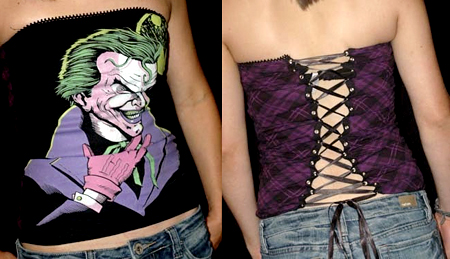 The Joker adorns this lace-up corset made by StellarCheri, complete with a purple plaid back.
10. Joker Dress & Hoodie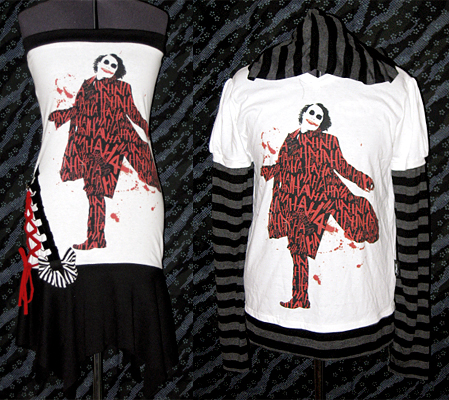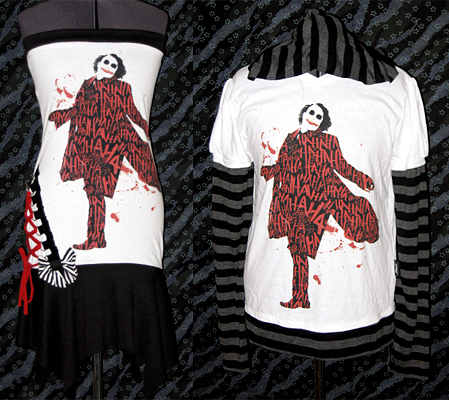 Technically this is 10 and 11, since Romann had five Dark Knight t-shirts to work with and came up with three separate items of clothing (check her post for the third, plus a cool Zelda shirt).