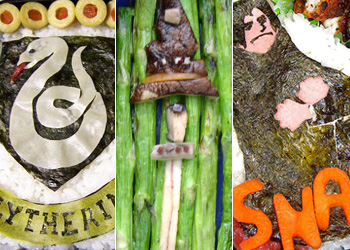 Last week, the much-anticipated Wizarding World of Harry Potter opened at Universal's Islands of Adventure theme park in Orlando. And next week, LEGO Harry Potter: Years 1-4 comes to game consoles. All that gaming and park-going is bound to work up some geeky appetites, and here's just the thing to satisfy them: a collection of awesome Harry Potter-themed bentos!
1. Hedwig Bento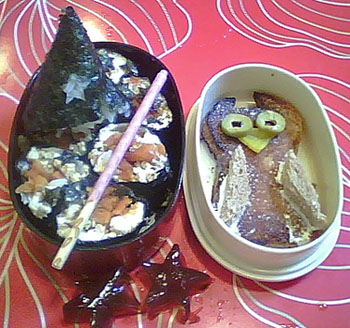 This breakfast bento was made by eeka and includes a Hedwig made from toast along with a Pocky wand and a nori (seaweed) and rice wizard hat.
2. Harry, Hermione, & Ron Bento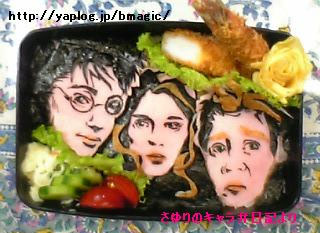 Using ham for the faces and nori and tempura for the hair, sayuri.kubo recreated this image of the trio from a Prisoner of Azkaban poster.
3. Harry Potter and the Chamber of Secrets Bento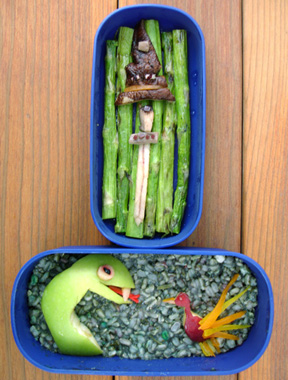 LiveJournal user kittehkat shared this Chamber of Secrets bento (along with similar entries for books/movies 1, 3, and 4) in the bentolunch community. It features the Sorting Hat with Gryffindor's sword and Fawkes vs. the Basilisk.
4. Slytherin / Quidditch Bento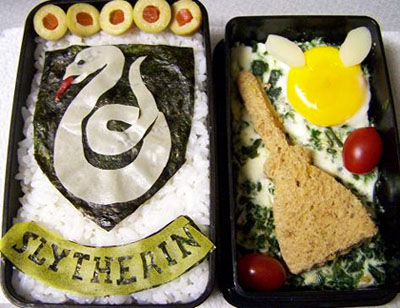 The crest of Slytherin, made from nori and mamenori (soy nori), and a display of Quidditch items, including a sandwich broom and egg and cheese Snitch, were all made by kawaiikiki.
5. Severus Snape Bento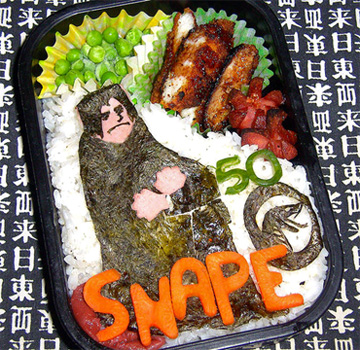 In celebration of Snape's 50th birthday, trekkiegrrrl put together a bento featuring the gloomy Hogwarts professor, even spelling out his name with carrots!