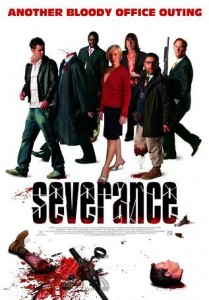 Halloween is almost upon us, and a lot of you are probably about to have horror movie parties. The big problem is, what is there to watch since we've already seen all seen the classics? When it comes to the horror movies that come out in the theaters nowadays, trying to find a good one is like playing Russian Roulette with a Colt .45; it's very rare you ever get lucky. Nevertheless, you can still rely on the films that sneak under the radar. For your Halloween viewing pleasure, I submit the following British import.
Starring: Danny Dyer, Laura Harris, Toby Stephens, Tom McInnerny, Claudine Blakley, Andy Nyman, and Babou Ceesay
Written By: James Moran
Directed By: Christopher Smith
SYNOPSIS: The Palisade Defence Corporation is having a team building exercise out in the woods of Eastern Europe. The exercise is meant to create efficiency through unity. Well, someone else has efficient training methods of his own. Unfortunately those methods involve slaughter and survival.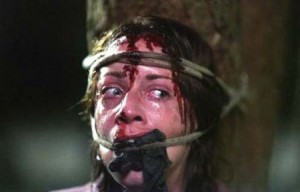 MOVIE ANALYSIS: In recent years, the comedy/horror genre has been on the rise, thanks largely to the cult success of films like Shaun of the Dead, Bubba Ho-Tep, and Black Sheep. Here's a film that snuck in under the radar when it decided to cross the pond from Britain and show up on the DVD racks at Blockbuster. Severance is a must see for the Halloween season for anyone who has ever been really frustrated in the office. If I were to hybridize this film, I would definitely say it's 30% The Office (The British version, you know, the funny one), 60% The Hills Have Eyes, and a little 10% of the pop culture sensibility embedded in Scream. Writer James Moran (Doctor Who: "The Fires of Pompeii", and Torchwood: "Sleeper") and Director Christopher Smith are so in tune with the modern perception of the horror genre that never once are you screaming, "No, don't go that way! Shoot him, you stupid %$&*#!" Instead, you're just plain screaming from both laughter and terror.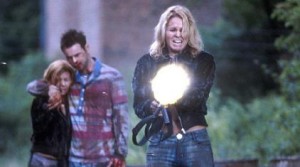 Moran also trumps the traditional horror movie formula by giving us a perfectly unglamorous set of characters. They aren't the archetypal lot you'll find in traditional horror movie fare; they're the archetypal lot you'll find in an office comedy. Thanks to that little switcheroo, you really won't be able to tell who's gonna die and who will survive. Moran and Smith bowl a few curves on that front, and they knock the pins right over by making it hard to consider any of the characters unlikeable. Quite the contrary, we know these kinds of people in the office setting, and that's why it's so easy to embrace them and genuinely fear for their welfare. The actors in the film handle their development so well that you're never left hating them for making a cold (or stupid) decision or because one is characteristically nasty to the other. Toby Stephens (Die Another Day) plays the office golden boy. He's the one who stands out from the rest of the pack and is always quick to criticize when someone else does something stupid. As events turn dire you find yourself actually agreeing with everything he says and does. He even reveals a bit of a virtuous side. That is just a little smidgen of how much attention to character development this movie has.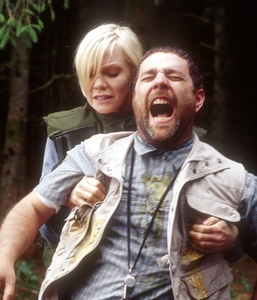 Even the token American woman (Laura Harris from Dead Like Me and 24) never draws attention to the fact that she's American. Ironically, that fact never really enters your mind, because you find yourself to be quite impressed as to how she fares against a psychotic survivalist. The only character in the flick that threatens to reduce the movie to standard horror fare impresses the hell out of you by becoming one of the pivotal characters in the film. I'm referring to the randy stoner character played with considerable aplomb by Danny Dyer (Grand Theft Auto: Vice City). The humorous aspects of this character come into play extremely well in the proceedings and even lend to a hysterical plot development involving some escorts he ordered at the beginning of the film.
With every horror film, it is inevitable that characters die, but what makes a horror film great is that you care when they do. That is the ultimate success of Severance. There is not a single character in the film that has you cheering upon their demise. I think that is where a lot to the credit goes to Moran's writing. Another bulk of the credit has to go to the director, Christopher Smith. Here is a director who definitely knows how to stage a horror film. Once all hell breaks loose, Smith has you eating out of his hand. When the characters are being chased by the killers, Smith succeeds in throwing roadblocks in the character's way to up the tension. The third act of the movie is on a constant adrenaline high as the blood and laughs flow like a raging river leading to a resolution that is as unexpected as it is hilarious.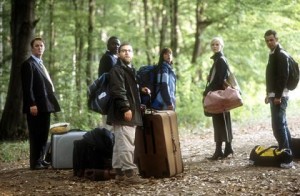 Yet amidst the chaos the story never loses its satirical value. Severance is totally littered with commentaries about the banality of office politics and the eagerness of the corporate machine to bury their past transgressions without regards to their consequences. The thing that sets Severance apart from earlier horror comedies is that the humor is entirely subtle. It's not out to steal the spotlight like The Evil Dead trilogy or Dead Alive. It's all working under the surface story and only peeks out where it's needed. This makes Severance more of a legitimate horror film that is a must for your Halloween Party Horror Fest.
DVD Extras: This one has everything a good horror DVD should have… Deleted scenes, outtakes, some highly informative Behind the Scenes featurettes, and an audio commentary that can best be described as being a lot like watching a horror film with your buddies. It's safe to say this a DVD where you get what you pay for.
ESSENTIALLY: A standout dark comedy/horror film where all aspects of production work on full-throttle, and the DVD proves it. A must have for today's horror enthusiast.
FINAL GRADE: A+ (With Honors)