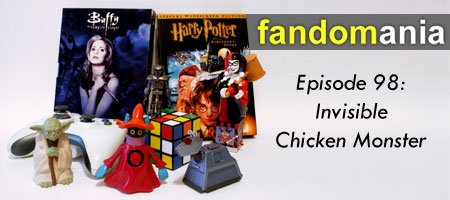 [audio:http://media.libsyn.com/media/fandomania/Episode_0098_-_Invisible_Chicken_Monster.mp3]
On this week's episode:
00:00:17 – Episode Opening
00:01:21 – The Little Orphan Annie comic strip concluded its 80-something year run this weekend, and we talk about its odd ending.
Movie Talk:
TV Talk:
00:05:03 – Doctor Who: "Vincent and the Doctor" and "The Lodger" (spoilers!)
00:25:11 – Persons Unknown: "Pilot" (mild spoilers)
00:27:18 – We discuss a bunch of other upcoming, current, and past TV, including True Blood, Breaking Bad, Glee, Justified, and Stargate: SG-1 and Atlantis (no spoilers).
Game Talk:
00:33:08 – Green Day: Rock Band
00:34:53 – Alpha Protocol
00:41:04 – APB: All Points Bulletin
00:42:01 – We talk about the upcoming E3 convention with some discussion about Rock Band 3, Project Natal / Kinect, and Celeste's opinion of Nintendo 64.
00:48:37 – Mailbag
00:50:50 – Episode Closing