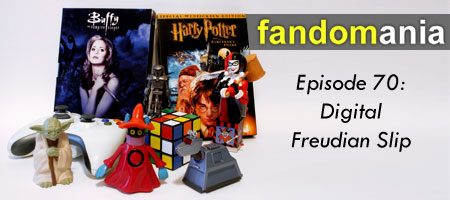 [audio:http://media.libsyn.com/media/fandomania/Episode_0070_-_Digital_Freudian_Slip.mp3]
On this week's episode:
00:00:17 – Episode Opening
00:00:20 – We talk about our first Thanksgiving together.
00:02:23 – Celeste and I both are in the Google Wave beta now, and we talk about its ups and downs so far.
Game Talk:
00:11:02 – Celeste has been hooked on Arkham Asylum, and I've been all into Borderlands.
00:16:05 – A Playstation 3 is making its way to our house, thanks to Black Friday at Amazon.
TV Talk:
00:20:19 – Dexter: Hungry Man (spoilers!)
00:24:00 – V: It's Only the Beginning (spoilers!)
00:28:02 – We talk about my increasing dislike of Flash Forward and some general views on current TV.
00:32:05 – Episode Closing