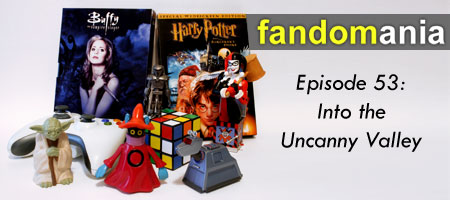 [audio:http://media.libsyn.com/media/fandomania/Episode_0053_-_Into_the_Uncanny_Valley.mp3]
On this week's episode:
00:00:17 – Episode Opening
00:00:35 – We have details about our upcoming live podcast from Dragon*Con!
00:01:35 – We're running an awesome new contest this week.
Movie Talk
00:03:35 – We talk about Sam Raimi being named as the director of the World of Warcraft movie.
00:08:39 – I ponder Ridley Scott's return to the Alien franchise.
00:10:19 – We moan about the rumor that Robert Zemeckis is making a new Roger Rabbit movie.
Comics Talk
00:13:43 – Ultimatum #5 (spoilers!)
TV Talk
00:20:33 – HBO has renewed True Blood, Entourage, and Hung for next season, and I talk briefly about Hung.
00:21:21 – True Blood – Hard Hearted Hannah (spoilers!)
00:28:46 – Warehouse 13 – Claudia (spoilers!)
00:39:52 – Eureka – It's Not Easy Being Green (spoilers!)
Game Talk
00:48:40 – We talk about some new announcements and upcoming features for the Xbox avatars.
00:54:43 – Celeste and I both are enthralled with Prototype this week.
01:01:48 – Episode Closing