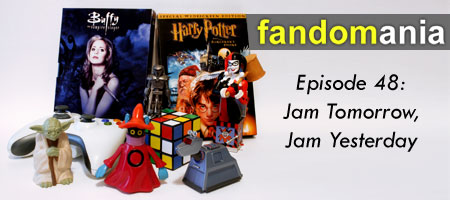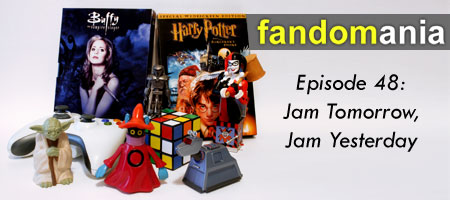 [audio:http://media.libsyn.com/media/fandomania/Episode_0048_-_Jam_Tomorrow_Jam_Yesterday.mp3]
On this week's episode:
00:00:17 – Episode Opening
00:01:20 – We will be recording next week's episode early, so we ask for questions and topics from the listeners for next time.
00:03:23 – Celeste has upgraded her iPod Touch to the new firmware, but I've held off.
00:05:19 – We talk about the recent deaths of Ed McMahon, Farrah Fawcett, and Michael Jackson.
TV Talk:
00:13:00 – Celeste watched the newest episode of True Blood (spoiler warning!)
Movie Talk:
00:19:23 – We agree that Tim Burton's Alice in Wonderland looks astonishingly weird.
00:23:50 – I'm looking forward to Public Enemies, and we discuss Christian Bale's weirdness.
00:26:05 – We revisit the new Star Trek movie to talk one more time about the problems some fans have with its time travel.
00:39:42 – I talk about the upcoming movie adaptation of The Box.
Game Talk:
00:44:34 – I finished Resident Evil 5 this week, and we talk about that and RE4.
00:47:18 – Droplitz is new on the Xbox Arcade.
00:48:44 – Celeste and I both are hooked on Red Faction: Guerrilla and love its connections to Saint's Row.
00:57:15 – I give a brief update on my Warcrafting.
00:58:34 – Episode Closing
You can e-mail us at podcast@fandomania.com.
Photo reference from this week's episode: