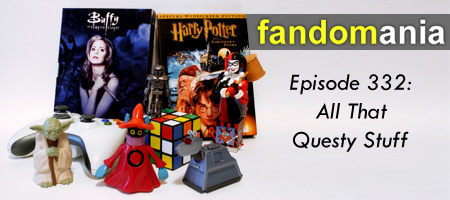 [audio:http://traffic.libsyn.com/fandomania/Episode_0332_-_All_That_Questy_Stuff.mp3]
On this week's episode we talk about the 2015 Video Game Awards, the next Assassin's Creed game, new casting announcements from Marvel and DC, and more!
00:00:29 – Episode Opening
00:00:47 – We talk about the Video Game Awards from this past weekend.
00:13:31 – Surprise, surprise! There's another Assassin's Creed game on the way.
00:30:29 – Jason has been playing Geometry Wars 3: Dimensions.
00:34:25 – Star Trek 3 and Ready Player One are looking for directors.
00:38:46 – Warner Brothers announced the cast for DC's Suicide Squad last week.
00:43:25 – We talk about the new Marvel casting for Dr. Strange and AKA Jessica Jones.
00:47:58 – The cast and title for the next James Bond movie have been unveiled.
00:51:48 – Episode Closing
You can send email to us at podcast@fandomania.com, and you can subscribe to the Fandomania Podcast at iTunes.

AKA Jessica Jones
,
Assassin's Creed
,
Assassin's Creed Victory
,
Dr. Strange
,
Geometry Wars 3
,
james bond
,
Ready Player One
,
Spectre
,
star trek
,
Suicide Squad
,
Video Game Awards