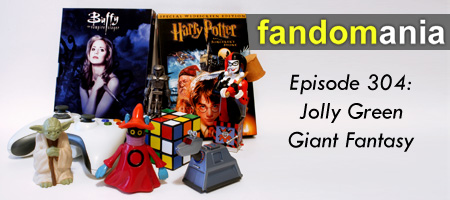 This week we talk about David Goyer's big foot-in-mouth podcast, the directing changeups at Marvel Studios, Halt and Catch Fire, Warehouse 13's finale, and more!
[audio:http://traffic.libsyn.com/fandomania/Episode_0304_-_Jolly_Green_Giant_Fantasy.mp3]
00:00:29 – Episode Opening
00:00:57 – Mailbag!
00:11:40 – Jason got a PlayStation Vita.
00:15:19 – David Goyer is a big ol' fool.
00:32:05 – Edgar Wright no longer is making Ant-Man.
00:34:28 – The upcoming Daredevil TV show has a new showrunner.
00:36:30 – We watched the first episode of AMC's Halt and Catch Fire.
00:39:34 – We talk about the final episode of Warehouse 13 (spoilers!).
00:51:36 – Episode Closing