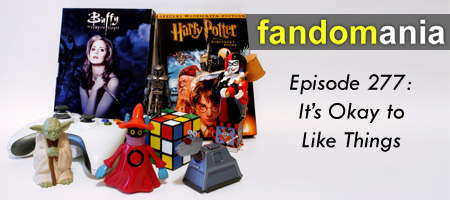 This week we talk about our initial impressions of the PlayStation 4, Assassins Creed 4, the new Doctor Who webisode, BioShock Infinite's DLC, XCOM Enemy Within, and more!
[audio:http://traffic.libsyn.com/fandomania/Episode_0277_-_Its_Okay_to_Like_Things.mp3]
00:00:29 – Episode Opening
00:00:53 – Jason watched Doctor Who: The Night of the Doctor. (spoilers!)
00:11:02 – Celeste isn't crazy about Batman: Arkham Origins.
00:21:24 – Jason's been playing XCOM: Enemy Within.
00:23:50 – We both played BioShock Infinite: Burial at Sea, Part 1! (spoilers!)
00:30:15 – Is Fallout 4 on the way?
00:31:59 – The PlayStation 4 has arrived! We talk about the console, as well as a couple of the games we've been playing on it (Assassins Creed 4 and Resogun).
00:57:49 – Episode Closing