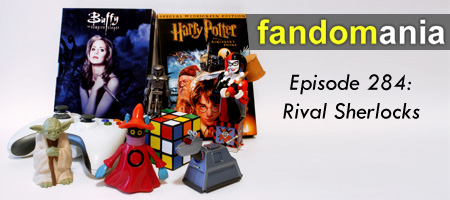 This week we answer some mailbag questions and then talk about Community, Downton Abbey, Doctor Who, Sherlock, Star Wars, Assassin's Creed, and more!
[audio:http://traffic.libsyn.com/fandomania/Episode_0284_-_Rival_Sherlocks.mp3]
00:00:29 – Episode Opening
00:01:10 – Mailbag!
00:09:21 – Community is back with 100% more Dan Harmon!
00:11:21 – We talk a little more about the new season of Downton Abbey.
00:13:42 – After catching up on Downton Abbey we started the most recent season of Homeland.
00:14:56 – Jason has been catching up on Doctor Who, believe it or not.
00:16:11 – Jason has started watching the new season of Sherlock, and Celeste is watching Elementary.
00:28:44 – Star Wars has a new comic book publisher for 2015.
00:33:48 – We have a spoilery chat about Assassin's Creed 4. (spoilers!)
00:55:18 – The holiday Steam sale ended this past week.
00:56:20 – Episode Closing