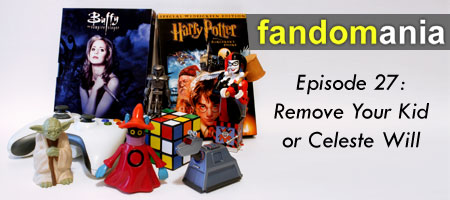 [audio:http://media.libsyn.com/media/fandomania/Episode_0027_-_Remove_Your_Kid_or_Celeste_Will.mp3]
On this week's episode:
We announce a contest to win the CD soundtrack to The Dead Pool.
We congratulate John and Lyn on their engagement and wish Lyn a happy birthday.
Celeste vents about why you shouldn't bring babies to a violent movie.
We talk about the Underworld series and the newest film, Rise of the Lycans.
We discuss the TV we watched this week at length: 24, Fringe, Lost, and Battlestar Galactica.
Celeste and I talk about the ridiculousness of TV and movie promotion these days.
I give no love to Banjo Kazooie: Nuts and Bolts.
Celeste is frustrated by Tomb Raider Underworld.
My hype for Resident Evil 5 dies after a Capcom interview.