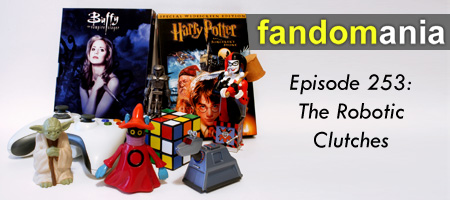 [audio:http://traffic.libsyn.com/fandomania/Episode_0253_-_The_Robotic_Clutches.mp3]
00:00:29 – Episode Opening
00:00:33 – We finally finished the new website!
00:02:15 – Peter Molyneux's Curiosity game has a winner.
00:08:42 – BBC announced some super spoilery news for Doctor Who this past week. (spoilers, obviously!)
00:16:57 – Guardians of the Galaxy has a surprising addition to its cast.
00:19:46 – Community's new show runner is Community's old show runner!
00:23:15 – We talk about Arrested Development season 4. (spoilers!)
00:39:41 – Episode Closing