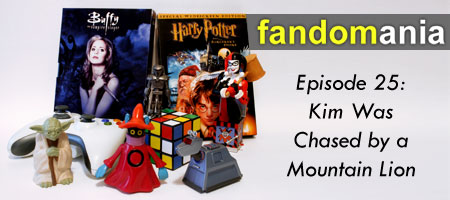 [audio:http://media.libsyn.com/media/fandomania/Episode_0025_-_Kim_Was_Chased_By_A_Mountain_Lion.mp3]
On this week's episode:
My computer has rebelled. It has a plan.
Celeste and I are heading south to see Billy Joel.
We're giving away a copy of the Terminator: The Sarah Connor Chronicles soundtrack CD this week.
Dexter has married his sister.
We're concerned about Steve Jobs' health and discuss its possible impact on Apple.
We discuss Ricardo Montalban's passing.
I have some self conflict about the Watchmen movie now that the lawsuit is over.
I talk about how Final Crisis #6 puts the nail in the coffin, so to speak.
We talk about the 24 season premiere in a spoilery way.
We also discuss the Battlestar Galactica season premiere and the webisodes in way-spoilery ways.
Celeste and I talk about why we've been enjoying Prince of Persia.
Celeste lets us in on her very first XBox co-op experience.
She also has a bone to pick with Microsoft about avatar clothes.
You can write to us at podcast@fandomania.com. The intro music for this episode comes from The Crowd, via the Podsafe Music Network.