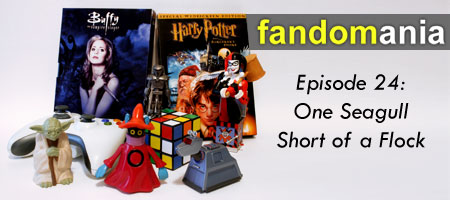 [audio:http://media.libsyn.com/media/fandomania/Episode_0024_-_One_Seagull_Short_of_a_Flock.mp3]
In this week's episode:
Celeste and I talk about this week's 24 premiere and the previous seasons.
We reflect on our spoiler policies a bit.
We talk about the awesomeness that is Stargate SG-1 and how we just finished watching season 1.
Celeste and I both finished the story missions for Saint's Row 2 this week, and we talk about our thoughts on the game versus Grand Theft Auto 4.
I've started playing Prince of Persia and talk a little about that.
I traded for Pokemon on Goozex and discuss my very first foray into the world of electric rats.
We talk about recent XBox Live Arcade releases, including Crosswords and Puzzle Master.
The new issue of Buffy, written by Jane Espenson, released last week, and we have some semi-spoilery discussion about it.
We give our opinions of the recently announced casting of Matt Smith as the Eleventh Doctor.
I talk about this week's merge of Mechazilla.com with Fandomania.
We give you a chance to win the Rest Stop 2 CD soundtrack.
I recount how Barack Obama and Spider-Man have kept me awake at night.
You can write to us at podcast@fandomania.com. The intro music for this episode comes from The Crowd, via the Podsafe Music Network.