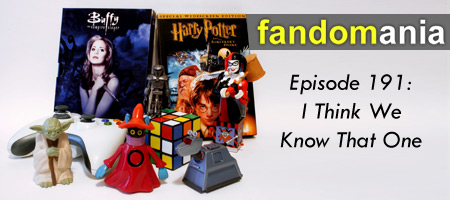 [audio:http://traffic.libsyn.com/fandomania/Episode_0191_-_I_Think_We_Know_That_One.mp3]
00:00:16 – Episode Opening
00:00:28 – We answer messages from the Fandomania mailbag!
00:08:51 – We revisit Mass Effect 3 to talk about how the crazy story has developed since last week.
00:22:42 – The Hunger Games
00:32:27 – We talk about Syfy's recent announcements and confusion regarding Battlestar Galactica: Blood and Chrome.
00:38:36 – There's some news about Doctor Who's upcoming season that's worth discussing (spoilers!).
00:45:32 – Celeste talks about Kingdoms of Amalur: Reckoning's new downloadable add-on.
00:49:07 – We both discuss the third expansion DLC for Saints Row: The Third.
00:53:52 – Episode Closing