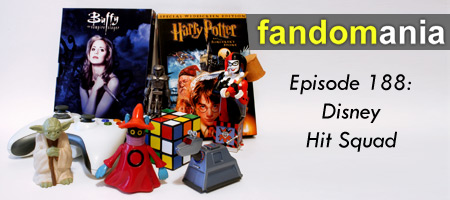 [audio:http://traffic.libsyn.com/fandomania/Episode_0188_-_Disney_Hit_Squad.mp3]
00:00:16 – Episode Opening
00:00:35 – We talk about Disney's cloak of secrecy.
TV Talk:
00:07:23 – Lucy Liu has been cast as Watson in CBS's Elementary.
00:14:11 – American Horror Story's second season is going in an interesting direction.
00:16:55 – Fringe: "The End of All Things" (spoilers!)
Game Talk:
00:25:17 – We discuss more about Mass Effect 3's DLC plans and the game's strange character relationship choice.
00:40:48 – Jason has played the SSX game demo.
00:41:30 – We talk about Assassin's Creed: Revelations: The Lost Archive and the news about Assassin's Creed 3.
00:53:45 – Episode Closing