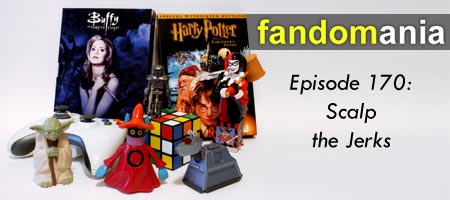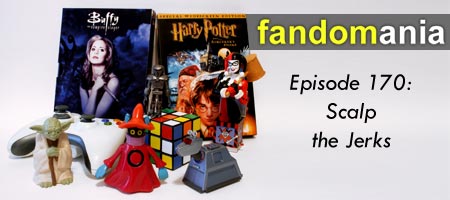 [audio:http://traffic.libsyn.com/fandomania/Episode_0170_-_Scalp_the_Jerks.mp3]
00:00:16 – Episode Opening
00:00:21 – We talk about Halloween and our own ways of celebrating.
TV Talk:
00:02:06 – Jason watched the first season of Luther this week.
00:05:14 – We compare the first episodes of Grimm and Once Upon a Time in a TV fairy tale throwdown! (spoilers!)
00:29:40 – In another pairing this week, we talk about Boardwalk Empire: "Gimcrack and Bunkum" (spoilers!) and Dexter: "Horse of a Different Color" (spoilers!).
Game Talk:
00:46:15 – We got a new gadget we'll be using for game reviews!
00:46:52 – More Batman: Arkham City
00:49:34 – War of the Worlds
00:52:08 -Joss Whedon has made a Shakespeare movie.
00:55:31 – Episode Closing