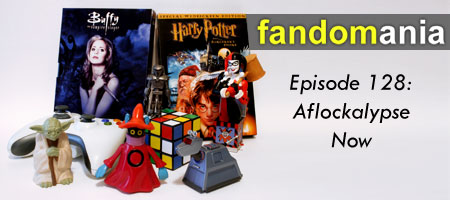 [audio:http://traffic.libsyn.com/fandomania/Episode_0128_-_Aflockalypse_Now.mp3]
On this week's episode:
00:00:16 – Episode Opening
TV Talk:
00:00:32 – Human Target (no spoilers, and brief!)
Games Talk:
00:01:41 – We talk about the games we've been playing over the past week, including Assassin's Creed 1 and 2, Pac-Man Championship Edition DX, Red Dead Redemption, Limbo, Raskulls
Movies:
00:08:50 – Exam
00:10:33 – Frozen
00:13:40 – We talk about the evolution of the SyFy network and genre TV on networks in general.
00:30:07 – The news from this year's CES has been trickling out, and we discuss some of Microsoft's announcements.
00:34:11 – Birds are falling from the sky, and fish are washing ashore. The end is nigh!
00:41:57 – Episode Closing
Aflockalypse
,
Assassin's Creed
,
CES
,
Exam
,
Frozen
,
Human Target
,
Limbo
,
pac-man
,
Raskulls
,
Red Dead
,
Syfy