This past weekend, Fandomania was invited to visit the Vulkon Fall Sci-Fi Expo in Orlando, FL. Jason and I attended both Saturday and Sunday of the three-day convention at the Hilton Orlando/Altamonte Springs. It was my first time at a Vulkon event, and I was not disappointed. It's a smaller convention than those we generally attend, but though it was strange not to be surrounded by thousands of costumed fans, the intimacy of the event has many advantages. Never before have I seen such eagerness by the guests to spend quality time with attendees, nor such a casual and welcoming atmosphere.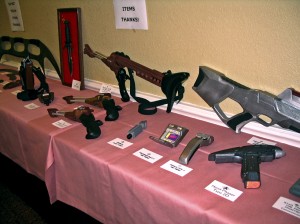 The guests were drawn mostly from Babylon 5 (Peter Jurasik, Stephen Furst, Bill Mumy, and Julie Caitlin Brown) and Battlestar Galactica (Richard Hatch, Nicki Clyne, and Bodie Olmos), with Star Trek's Terry Farrell and Dwight Schultz, as well as cartoonist David Reddick, rounding out the lineup. Richard and Dwight were last-minute replacements for Tricia Helfer and Michael Dorn, and though it was disappointing they were unable to attend, it's a testament to the dedication and competency of Vulkon's staff that they were able to get such great replacements just ten days before the convention.
Most of the costumed attendees were in Star Trek attire, from Starfleet uniforms to Klingon warriors. There was also at least one PsiCop (Babylon 5), a Daniel Jackson (Stargate SG-1), and some Battlestar Colonial Marines. As at Vulkon's Summer show, there was a Klingon bar set up in one room and a prop replica display in another. Marc Draven with his Draven's City Limits Tattoos, quickly becoming a Florida convention staple, was there giving tattoos. Saturday night brought a concert performance by Bill Mumy, with Julie Caitlin Brown opening, plus a Halloween party and costume contest. Other events during the convention included a dating game held by new personals site SoulGeek.com, game shows, Q&A presentations, a VIP cocktail party and banquet, and more.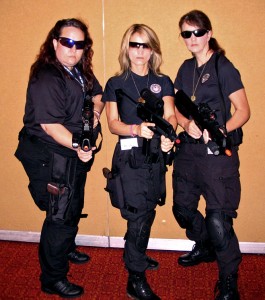 Jason and I were able to interview Peter Jurasik, Stephen Furst, Julie Caitlin Brown, Richard Hatch, and Bodie Olmos over the course of the weekend. You can hear us talk with Peter in the latest podcast, and keep an eye (or ear) out for the others in the weeks to come. We'd both like to thank the awesome folks at Vulkon, especially Terri, for allowing us the opportunity to experience this great event.
Vulkon's next convention will be in Indianapolis, IN, this Thanksgiving weekend. Check their website for more details on that and other upcoming Vulkon events.