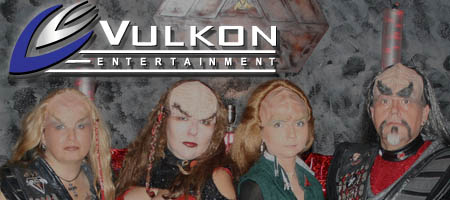 Last weekend I was at Vulkon's summer show in Orlando, FL. Vulkon puts on events throughout the year, and this was the first one I've attended. This event had a strong Star Trek theme with guests like Jonathan Frakes and Nana Visitor in attendance. It ran from Friday through Sunday, and I was able to speak with Erick Avari, Cirroc Lofton, and Aron Eisenberg. I'll be posting those interviews over the next few days, and I'll also be updating with some collectibles-related interviews over at www.Mechazilla.com, so keep an eye on both sites. For now, here's a look at some of the sights and folks I encountered over the weekend.
You can see Vulkon's official website with news of their upcoming events here: Link

Immediately upon entering the Hilton lobby, I heard music coming from a side room, so I headed in that direction to check it out. It turns out that there was a Klingon bar set up, complete with atmospheric decorations and fan-made music.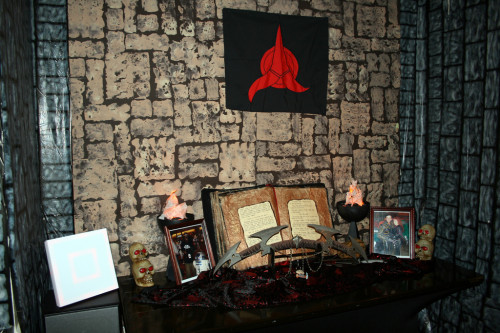 I met some of the Klingons, who turned out to be a sci-fi parody band called Sci Fried. I talked with Chuck, the lead guitarist, for a bit, and he gave me one of their demo CDs. Their website is, appropriately enough, www.sci-friedband.com. They hosted the Saturday night party, which unfortunately I wasn't able to stay long enough to attend.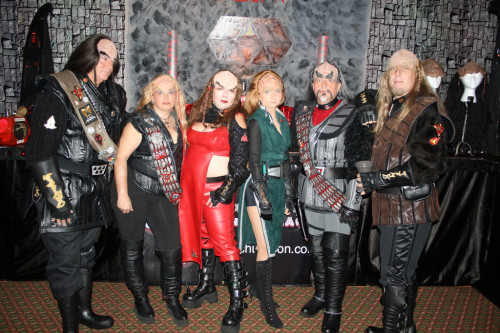 As I was leaving the Klingon bar to go find the registration table, I ran into some Romulans heading in the Klingon direction. I'm not all that great with my Trek knowledge, but something tells me that wouldn't be a good combination. There was a third Romulan in the group, but she was too busy hiding behind me and giving me bunny ears to actually appear in the photo.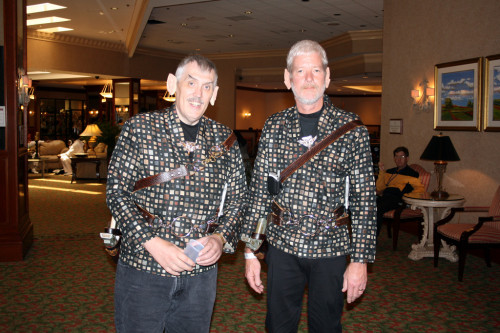 After I got my pass and was able to head into the main convention hall, I made a pass through each of the rooms to see what was going on. Along the way I met Amanda Stevens, who was there to promote Superhuman Experiment from Sci-Fit TV. That table had a bunch of promotional goodies to hand out, including a copy of their new comic book, called ( X ).
The dealer room had a bunch of tables with all manner of sci-fi toys and cards and collectibles. I'll go into more detail about that, as well as the Prop Room, in my coverage on Mechazilla. Suffice to say that even though I was there in an official capacity, I still managed to drop some money for a Babylon 5 art print by James Cukr from Lightspeed Fine Arts.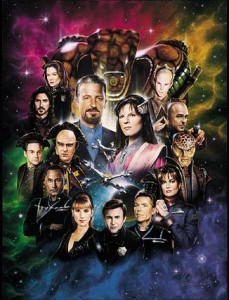 I sat in on a few of the programming panels, including a really interesting one about sci-fi costuming that was a fantastic look into what hardcore fans do to build things like Boba Fett costumes and replica weaponry from scratch. I was able to get an interview with the guys who ran that panel, which I'll be posting on Mechazilla later this week. They had a lot of their creations on display in the special Prop Room, alongside the wares of other creative fans (all of which also will be shown in-depth on Mechazilla). Vulkon also hosted some neat gameshow trivia sessions, as well as a costume contest, a cocktail party, and a banquet with the celebrity guests.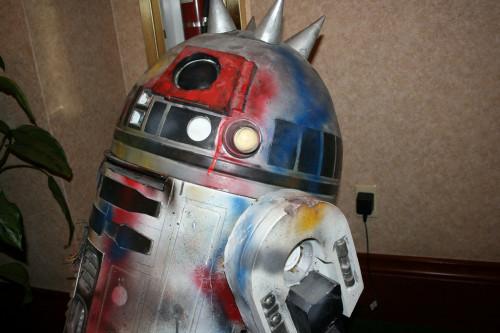 Eventually I made it into the autograph room, where I met David Reddick, a cartoonist who writes the Rod & Barry and Gene's Journal cartoon strips at Roddenberry.com. I also had a chance to speak with several of the other guests, including George Lowe (the voice of Space Ghost and a staple of the Florida convention community), Cirroc Lofton (Jake Sisko from Star Trek Deep Space Nine), Aron Eisenberg (Nog on Star Trek: Deep Space Nine), and Erick Avari (Chandra Suresh from Heroes, Elektra's dad from the Daredevil film, and so many other roles). I'll have interviews with Aron, Cirroc, and Erick coming up later this week.
This was the first Vulkon event I'd attended, and I had a great time. The next Orlando Vulkon is coming Halloween weekend and will feature guests from Babylon 5 and Battlestar Galactica, in addition to more actors from Star Trek. The preferred seating sells early for Vulkon events, so if you plan on coming, be sure to get your tickets ordered in advance.
( Vulkon Orlando Summer 2008 Photo Set )