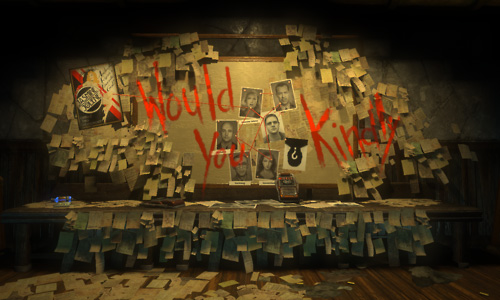 The last couple of Tumblr features have spotlighted TV and movies, so it's time for us to embark on a journey into the realm of video games. This particular journey will take us both to the underwater city of Rapture and to the cloud city of Columbia, the settings for the landmark BioShock franchise. If you have suggestions of other fannish Tumblrs we should be checking out, let us know in the comments!
Fandom(s): BioShock
Theme or gimmick: No gimmicks here! Would You Kindly is a fan-driven Tumblr that aggregates all kinds of awesome BioShock material.
Tumblr intro: "Welcome to Rapture. Is a man not entitled to the sweat of his brow?"
Why it's great: The BioShock video games are fantastically deep explorations of dystopias sprouting from the extreme end of Ayn Rand philosophy. Populated by voluntary genetic freaks, giant and lumbering armored behemoths, and creepily vacant little girls, the series combines the best of horror, science fiction, and politics to produce an immensely absorbing world. That world is rich with details and artistry, and that's where Would You Kindly excels. It's a great repository of cosplay, fan art, concept art, and humor, all set in the worlds of BioShock. Fans of the game should follow this one to get frequent helpings of Andrew Ryan's vision of utopia, and even non-players might appreciate the creepy mystique of idealism gone bad.