Across fandoms, we can always locate characters (or beings) which have a sick similarity, be it their origins, actions, or simply their appearance. The natural next step is to determine which one — the original, or the "rip off" — has the chops to beat the other. That is the purpose of Fandom Deathmatch. Two fandoms will pit against each other to the death. Who will make it out this time?!
Battle #1: The Borg (Star Trek) vs. The Cybermen (Doctor Who)
The Borg (Star Trek)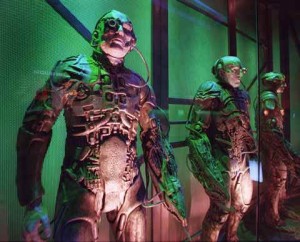 Strengths: Instant upgrading/adaptation, high level of technology, collective mind allows for extensive knowledge and strategy.
Weaknesses: Able to revert from Borg to original species, retaining knowledge of Borg system strengths & weaknesses. Connection to Borg Queen, if severed, automatically can shut down entire division of Borg. Borg cannot exist without flesh components. Bullets.
Tagline: "Resistance is futile."
The Cybermen (Doctor Who)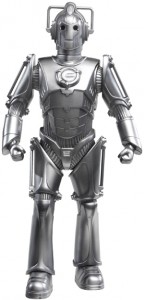 Strengths: Metal bodies prevent injury, no personal thought processes or emotions, relentless, resistant to most firepower, complete unit thought with ability to not rely on Cyber Controller.
Weaknesses: Gold (older model Cybermen), EMP (electro-magnetic pulse), slow moving, fewer in number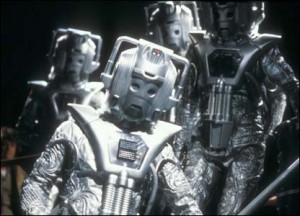 Tagline: "Delete."
__________________
The Battle:
Two species, both believing that continued upgrading will bring them above everyone else, are to meet for the first time. In this battle, one will determine which has the right to stand above and claim victory over the lesser.
Technologically, the Borg have the upper hand. With integration of countless species, their knowledge of technology and space travel extends beyond that of any other being (except the Time Lords). However, the Cybermen will have the upper hand when conversion of them into the Borg collective is disrupted as they are 90% mechanical, with their outer metal shell likely impenetrable to the Borg conversion wires.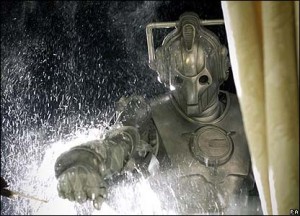 Within three attempts at "Deleting" the Borg, the Cybermen's main weapon will be rendered useless as the Borg will at that time adapt. If a Cyberman is fortunate enough to take out the Queen Borg, however, this will be of benefit to them as they will incapacitate the Borg almost instantly.
This is highly unlikely, however, as the Borg (due to multiple species within their collective) have vast amounts of knowledge and will counter the Cybermen's attempts by simply attacking in droves. However, if a Cyberman is effectively taken into the Borg, they will automatically know the Cyberman's weaknesses and remove them accordingly.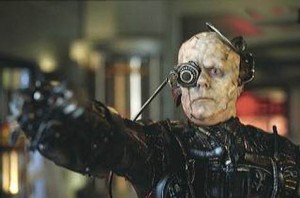 As the Cybermen never work with other species (at least not well), the chances of them being in league with ex-Borg (Captain Picard or Seven of Nine) is slim-to-none due to their history of supremacy over other species.
__________________________
Final result and winner:
The Borg, for their ability to adapt within short amounts of time, and continuously upgraded collective mind.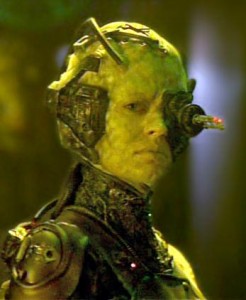 In two weeks, look for Fandom Deathmatch #2: Ellen Ripley (Aliens) vs. Sarah Connor (Terminator)