Ducks are great: you can watch them swim around in a pond or watch them try to cross a road. Or, you can pit them in a fight to the death designed to answer the burning question few have dared to ask: who would win in a fight, Darkwing Duck or Duck Dodgers?
Darkwing Duck, of course, is Disney a spin-off of that company's classic character Donald Duck (actually, a spinoff of a spinoff if you include Scrooge McDuck). Based on Golden Age mystery men such as the Shadow, Doc Savage, and Batman, the only thing standing between Darkwing and justice is his ego.
Looney Tunes, on the other hand, created Duck Dodgers, based on classic space adventurers such as Buck Rogers, John Carter, and Flash Gordon. The Duck Dodgers character really gives Daffy Duck a chance to stretch his thespian wings. The only thing standing between him and saving the galaxy is his ego.
"I am the terror that flaps in the night!" exclaims Darkwing whenever he arrives to thwart some evil villain's plan, but usually messes it up from there. Perhaps if he were transported to Duck Dodgers's ship, he would say something like "I am the terror that flaps in the night. I am the courageous futuristic, um… duck from the present that goes into the future, I'm—"
"Darkwing Duck!" Dodgers would shout.
"That's my line!" Darkwing would reply, brandishing his gas gun. The gas gun is Darkwing's preferred weapon. Sometimes it shoots grenades full of knockout gas. Sometimes it shoots a cartoon boxing glove. Sometimes it shoots a cable that allows Darkwing to latch onto a support beam and scale a wall. The point is it's a great all-purpose weapon for cartoonish gags.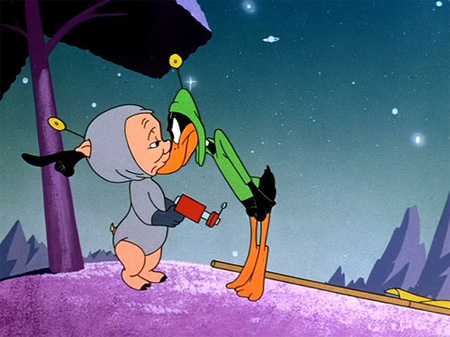 Dodgers doesn't have a signature weapon (unless you count his spaceship and skintight costume, both of which are signatures, but aren't weapons). Like Darkwing, though, his ego is too big for his ability to save the day. Fortunately, Dodgers's faithful sidekick Space Cadet (portrayed by Porky Pig) usually saves his friend in time to get him back into the fight.
"Take this!" Darkwing might fire a canister of sleeping gas, causing Dodgers instantly to fall over, unconscious, legs sticking straight up in the air. Of course, it can't be that easy to defeat Dodgers. This is where the sidekick comes in. Cadet would probably arrive with some way to awaken his hero; maybe with Acme brand smelling salts. Better yet, a can of Acme energy drink.
"Yowsers! Don't drink that stuff after noon. Yippity yippity," blabbering like a hyperactive jumping bean, Dodgers could then smack the gas gun out of Darkwing's hand.
The hilarity might go on like this for a while. But Darkwing Duck has his own list of support characters. Launchpad McQuack, for example, is a great sidekick for Darkwing. He usually points out the folly of Darkwing's crime-fighting schemes, but of course is completely ignored the whole episode until the end when it turns out Launchpad was right. Or sometimes he just states the obvious. Then there's Darkwing's girlfriend Morgana, who casts magical spells with reckless abandon (emphasis on reckless).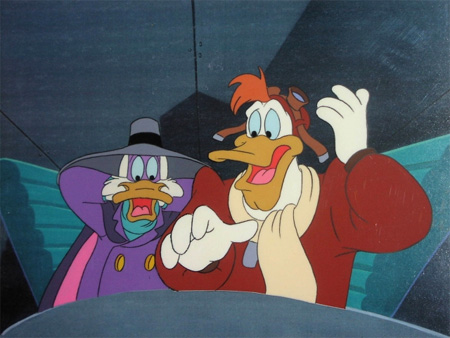 Perhaps at this point Dodgers activates some secret security defense weapon Dr. Ignatius Q built into his ship. For example, a cannon that shoots a web around Darkwing and Launchpad. Not to worry, Morgana can simply turn Dodgers into a newt.
"Don't worry, I'll get it right this time," she might say, and promptly turn Darkwing into a yak — "Oh dear."
But it always works out in the end. By turning Darkwing into a yak, he is so big that he breaks the bonds of the web. Reverting back to duck, Darkwing is ready for action. This could go on forever, but episodes need to fit into the half hour time slot, so let's skip ahead a bit. Dodgers tricks Darkwing into standing next to the garbage hatch, and flushes him out the air lock. Of course, he has to pause to savor his victory and satisfy his ego, so instead of closing the hatch, he almost gets sucked into space too. Fortunately, Cadet has his trusty rocket pack, and is able to get Dodgers back onto the ship. Launchpad, unfortunately for Darkwing, has no such gizmo.
"Piece of cake," declares Dodgers. The victory goes to Duck Dodgers… this time (this is Disney and Looney Tunes we're talking about. They don't DIE die. They just cartoon die).