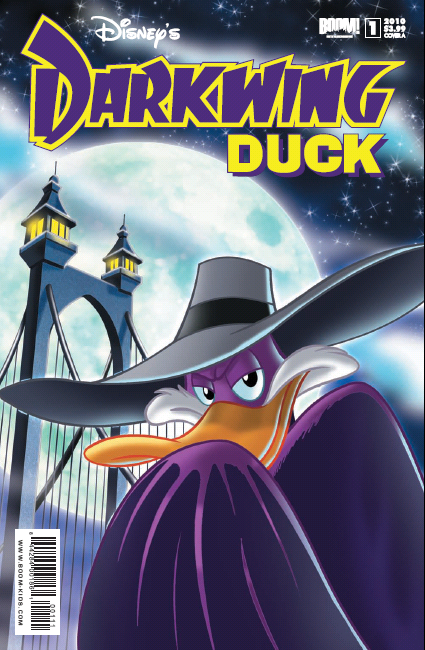 Issue: Darkwing Duck #1: "The Duck Knight Returns"
Release Date: June 16, 2010
Writer: Ian Brill
Artist: James Silvani
Colors: Andrew Dalhouse
Letterer: Deron Bennett
Cover A: Magic Eye Studios
Cover B: James Silvani (Colors: Andrew Dalhouse)
Cover C: Jake Myler with James Silvani
Publisher: BOOM! Studios
Yay! Darkwing Duck! He was always a favorite of mine, and my husband as well if his immediate searching of the TiVo guide for episodes at the mere mention of the great D.W. means anything. Apparently we weren't the only ones missing "The Terror That Flaps in the Night," because BOOM! Studios has given him a comeback due to popular demand!
Man, I feel so bad for Drake Mallard, aka Darkwing Duck. His life as a retired vigilante sucks! The purple-clad hero is no longer needed, replaced by Crimebots who now patrol the city of St. Canard. The Crimebots are a product of Quackwerks Corporation, who now employ everyone in the city, good and bad alike, turning them all into paper pushing drones.
A news clip commemorating Darkwing Duck's last known adventure a year ago brings his old persona and action packed lifestyle to mind and he spends the rest of the work day daydreaming about the good times of the past while wading his way through cubicle drudgery. His overenthusiastic daughter Gosalyn doesn't help things as she gets in trouble at school for suspecting teachers of being supervillains and reminds him of his sidekick Launchpad. As if that weren't bad enough, he's forced to work side by side with an old nemesis, Megavolt, while still keeping his secret identity a secret as the majority of the population seems to have forgotten him completely.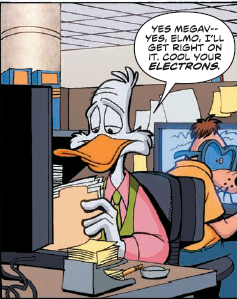 Megavolt is abducted after missing the bus home from work, and we get our first peek that trouble may be afoot. Will a hero be needed again?
When Drake Mallard finally makes it home, Gosalyn only makes his depression worse, asking if he's helping make bigger and better Crimebots. No, he's a Data Accounts Networking Officer, and he doesn't even know what that means. Alone in his room, he even calls Launchpad just to hear his voice before hanging up. The poor, unnecessary vigilante has no use for his purple costume, or does he?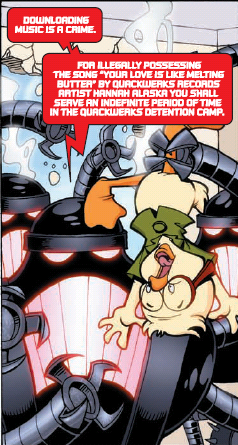 Suddenly the Crimebots bust through the wall and arrest Honker for illegally downloading a song (by Hannah Alaska… *giggle*) and Drake Mallard is suddenly faces with an injustice that must be justified. Is this a job for a firmly worded memo, or is this a job for Darkwing Duck?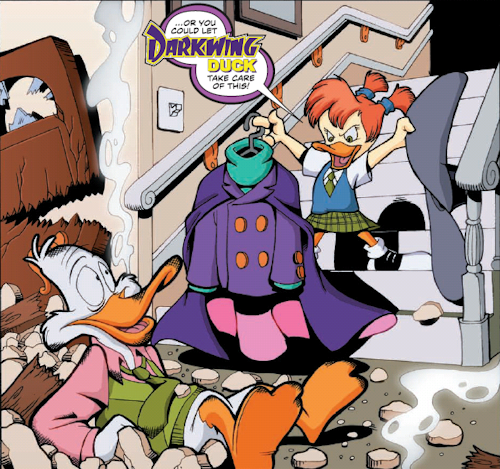 I am so excited about this series. Just reading it has me dying to watch the old episodes I loved as a kid, so I definitely can't wait to see more. Will he put on his costume and save Honker and possibly even St. Canard once more? I'm dying to find out!
Rating: 5 / 5 Stars