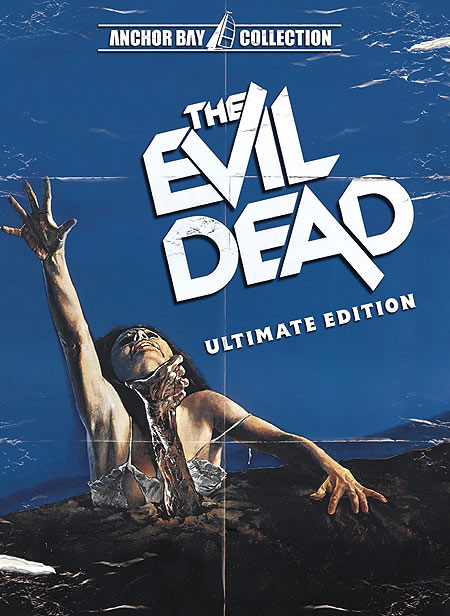 I've been a big Sam Raimi fan ever since my boyfriend introduced me to the Evil Dead franchise a couple years ago. I was browsing Raimi's IMDb page when I came across some EXTREMELY unsettling information: Sam Raimi is remaking his 1981 classic B-horror film Evil Dead.
I'm so upset that I'm almost at a loss for words. Almost.
I used to have a lot of respect for Raimi—after all, he did write and direct the original Evil Dead movies, all of which are masterpieces of amateur horror effects and subtle comedy appreciated by B-horror film afficianados worldwide. Since the release of the increasingly disappointing Spider-Man movies, however, Raimi has left a bit of a sour taste in my mouth.
Supposedly, Raimi's Evil Dead remake will hit theaters sometime this year, although I find that pretty hard to believe given the fact that a cast list has yet to be released and Raimi is still searching for a director. Right now, Ghost House Pictures (The Grudge, The Grudge 2, 30 Days of Night) is set to produce the film, but no other companies are attached for either production or distribution.
Creative individuals do tend to be an odd bunch, but one would imagine that they would learn from their peers' mistakes. Given the uproar that continues to surround George Lucas' most recent addition to the Indiana Jones franchise, and the intense disgust with which once ardent fans now refer to George Lucas himself, a remake of Evil Dead makes me really nervous. I understand the desire to go back and attempt to perfect a creative project from the past, but in my personal experience I've discovered that doing so generally ends with nothing but anguish and frustration.
What upsets me even more is the effect that all of these franchise remakes and sequels has on younger generations. If Raimi's new Evil Dead does indeed see a theatrical release, the teenagers who flock to movie theaters to hold hands and spend their parents' money will have no knowledge of or appreciation for any of the original Evil Dead films. In addition, there is no way that a remake, or even a long-awaited "sequel", will appease fans of the original films. I love Bruce Cambell, but he's no spring chicken anymore and what die-hard Evil Dead fan wants to see our beloved Ash recast? I'm sorry, Sam Raimi, but I forsee serious backlash from this decision. Take Bruce's lead: create movies about the Evil Dead series. Leave well enough alone.