Sam Raimi returns to his horror roots with the paranormal thriller Drag Me To Hell. Does Raimi still have the magic that made him a horror icon, or has he let the cobwebs build up too much?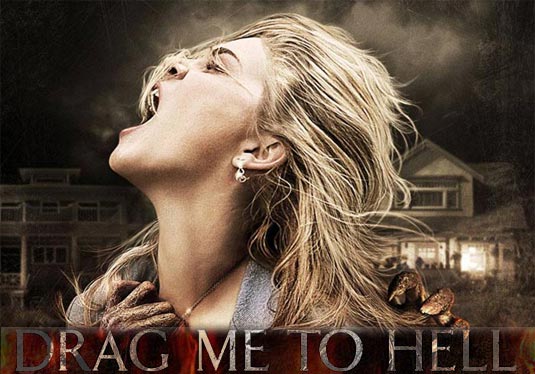 Drag Me To Hell
Starring: Alison Lohman, Justin Long, Lorna Raver, Dileep Rao, David Paymer, Adriana Barraza, and Reggie Lee
Written by Ivan and Sam Raimi
Directed by Sam Raimi
SYNOPSIS: Christine Brown has worked hard for the perfect life and the perfect boyfriend, and she is striving to have the perfect job until her ambition gets the better of her. She rejects a loan extension on the home of an old gypsy woman, and the old woman's wrath is terrible when she curses Christine. Now Christine has three days to save her soul before she is forced into the depths of hell.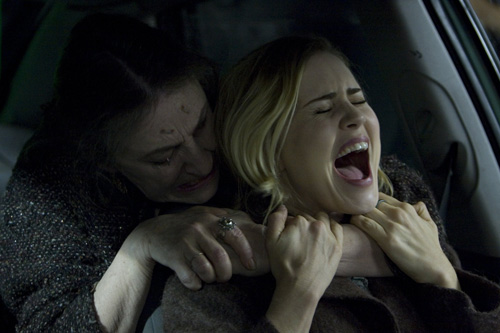 ANALYSIS: Finally Sam Raimi takes a cue from Christopher Nolan by taking a break from his multi-million dollar superhero franchise to get back to the genre that established him as a creative force in technical filmmaking. Watching DMTH felt like the return of an old friend. Raimi pioneered the art of the dark comedy/horror genre when he directed the Evil Dead trilogy. Many have accused Raimi of straying from his roots by breaking out into blockbuster filmmaking when he made the Spider-Man films. With DMTH Raimi sets out to prove that he has never forsaken the genre that earned him much praise.
While this film is definitely not as graphic as the Evil Dead trilogy, you can be assured that the protagonist of this film suffers on a very similar level to Ash. Raimi has a notorious love for torturing his lead actor. Alison Lohman is definitely game to take a Sam Raimi style beating because from the moment she gets into her car after work, she is destined to suffer the tortures of the damned. Of course that's because she is damned. The horror of this film isn't what I would deem very scary, but I will say that it is stylish, and it definitely bears the signature style that has become synonymous with the name Sam Raimi. For that matter, so has the humor. While it's not as outrageous as Raimi's earlier films, it is in your face (figuratively and literally) on an excruciating level. What's more, you find yourself giggling sadistically. When you think about it, that really is a different position when you're viewing a horror film. Most of the time the filmmakers want you to share in the terror of the protagonist. Not here, no way. Raimi lets you in on the demented fun of torturing a reasonably good person.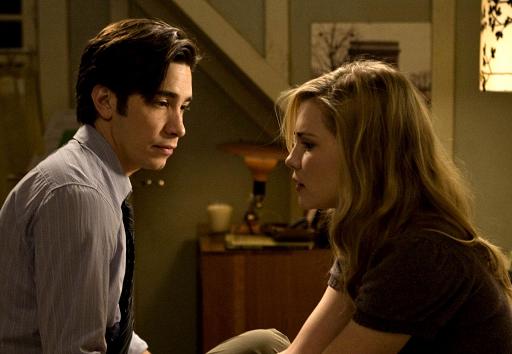 Lohman is totally sympathetic as a protagonist. Any decisions she makes early in the film are ones that we ashamedly are willing to make. We all want to get respect from our bosses in order to get a promotion, and in doing so we are forced to do things that make us feel dirty. Lohman really sells the desperation to erase that one mistake she made. Another thing that Raimi does extremely well in the beginning of the film is illustrating the horrors that await Christine if she fails to save herself. He burns a horrible image in your brain of the ground cracking with demon hands emerging from the cracks to grab and claw at your flesh as you are being pulled into a fiery abyss. In the end, the sequence leaves it to your imagination as to what's in store below. Then again, just that image alone is enough to make you afraid to see it again. Throughout the film you do worry as to how she will avoid this fate.
Many could accuse this film of not being scary, and I can agree with that, but then again I can't remember actually being terrified by Raimi's horror films. What I do remember was having a great time, and I remember walking away from it invigorated by the realization that I just saw something fun, and wild, and it definitely stands out beyond the throng of inept Hollywood horror rubbish. I will admit however that the story is nothing new and indeed echoes earlier "I'm cursed" films like Thinner. There was a sense of familiarity in the story, which lulled me in a false sense of security. The final result leads to a finale that bears a strong resemblance to the classic EC comics like Tales From The Crypt or Vault of Horror. This of course is a good thing, and it provokes you to applaud Raimi for finishing the film the way he wanted it.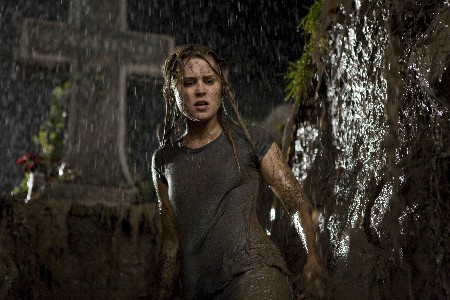 Drag Me To Hell definitely has no problem dragging you along with the protagonist for a ride that displays Raimi's trademark visual artistry, and it makes one lament that Raimi has surgically attached himself to the Spider-Man franchise when he could be making films like this. Not that the Spider-Man films are terrible. It's just that Raimi makes great original films too. I wouldn't mind seeing at least one more of those before he starts working on Spider-Man 4.
ESSENTIALLY: Even with the standard story, this is classic Raimi with a bigger budget.
FINAL GRADE: B