Few people realize that Avatar director James Cameron has had five different wives. Even fewer people are aware that Kathryn Bigelow, director of the award-winning war drama The Hurt Locker, was Cameron's third wife. In fact, Cameron and Bigelow were married for two years before they divorced in 1991. Before Bigelow, Cameron was married to his first wife, Sharon Williams, for six years before he married The Terminator and Terminator 2: Judgment Day producer Gale Anne Hurd. In 1989, just four years into his marriage to Hurd, Cameron met fellow director Kathryn Bigelow. By the time Bigelow and Cameron divorced in 1991, Cameron was already known for five major motion pictures including The Terminator (1984) and Aliens (1986).
It wasn't until Cameron married his fourth wife, The Terminator / Terminator 2 actress Linda Hamilton, that Cameron released the film that established his directorial prowess for generations of movie viewers born in the mid-to-late 1980s and early 1990s. After more than four years of dating and the birth of their daughter, Josephine Archer, Cameron and Hamilton were married in July 1997, only five months before Cameron's record-breaking box office smash Titanic (1997) was released.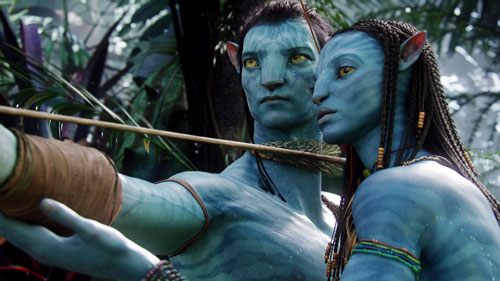 Despite the twelve-year waiting period between Titanic and Cameron's most recent box office success, Avatar, the result of recent awards ceremonies like the 67th Golden Globe Awards and the staggering box office numbers put up by Avatar are proof that the captive audience Cameron created with Titanic is still mesmerized by the director's work, regardless of its quality.
The 67th Golden Globe Awards serves as the best platform for addressing the question I'm about to pose: if you were Kathryn Bigelow, would you be outraged by this year's results? Of all the award ceremonies held thus far this year, the Golden Globe Awards provide the most blatant comparison between the work of infamous director James Cameron and his ex-wife, Kathryn Bigelow. In an unintelligible decision by the powers that be at the Hollywood Foreign Press Association, both Avatar and The Hurt Locker were nominated for Best Motion Picture: Drama.
While each of the other films nominated for this award — Jason Reitman's Up in the Air, Lee Daniels's Precious, and Quentin Tarantino's Inglourious Basterds — are obvious contenders for the title of Best Motion Picture: Drama, Avatar seems a bit out of place in the category. Even overlooking the reasons why Avatar was placed in this category, the fact remains that Kathryn Bigelow's The Hurt Locker is much higher quality and substantive film than the self-indulgent, masturbatory disappointment that took Cameron more than twelve years to produce.
The fact that Bigelow created The Hurt Locker, a film that is so superior to Avatar on so many levels, on an $11 million budget over the course of a little more than a year and failed to win the Best Motion Picture: Drama Golden Globe Award stands not only as a testament to Bigelow's directorial talent, but also the extent to which money can determine the outcome of awards ceremonies. While the general public hails Avatar as Cameron's masterpiece, I find myself wondering what happened to his budget of over $300 million because, other than some very striking and colorful visuals and the possibility of 3-D viewing, Avatar doesn't have a whole lot to offer. And if I were Kathryn Bigelow, I would be royally pissed about that fact.