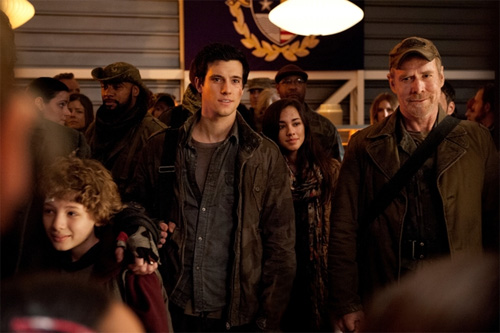 Episode: Falling Skies 2.09 – "The Price of Greatness"
Original Air Date: August 12, 2012
A dream is fulfilled as the Second Mass arrives in Charleston in the Falling Skies episode "The Price of Greatness". The unit members encounter new people as well as people from their pre-invasion lives. The 2nd Mass has been promised paradise before, but those were empty promises. Charleston appears to be everything they were told: the chance to resume as normal a life as possible. But does the beauty of the new city cover a nightmare instead of a sweet dream for our heroes?
Colonel Porter leads the 2nd Mass into the new Charleston, now underground. Everything topside was destroyed in the invasion, but everything built below-ground survived intact. The 2nd Mass is greeted with applause and cheers, an unexpected welcome. Everyone is aware how bravely they've fought against the aliens. Captain Weaver experiences a joyful reunion with his daughter, Jean. For the members of the 2nd Mass, Charleston is a living dream: a place with clean beds, hot food and showers, and people living a close to "normal" life again. But not everyone from the unit is happy to be back in civilization. Pope plans to get out of town as soon as he can. Tom is reunited with his college mentor, Arthur Manchester (guest star Terry O'Quinn). He's the new Majority Leader of the United States.
Tector and Weaver report for duty to the military commander. Weaver gives a briefing on the 2nd Mass's knowledge of alien movements. He offers the services of his people as scouts for the Continental Army, but General Bressler has no need for scouts. The aliens have no reason to attack Charleston again. They do not know of the new city's existence. The civilian authorities decided to use the lull to regroup and rebuild, not pick fights with the aliens. Manchester is the real one calling all the shots, even for the military. Hal bursts into the office. There's a disturbance and Captain Weaver is needed.
The 2nd Mass is in an uproar. They're being ordered to give up their weapons, and they're being split into different housing areas by the Charleston authorities. The group has had each other's backs for months. Colonel Porter steps in and promises it's not a punitive action; just the way they do things. Weaver doesn't like it any more than the rest, but they have to try to fit in. They have to think beyond the 2nd Mass now.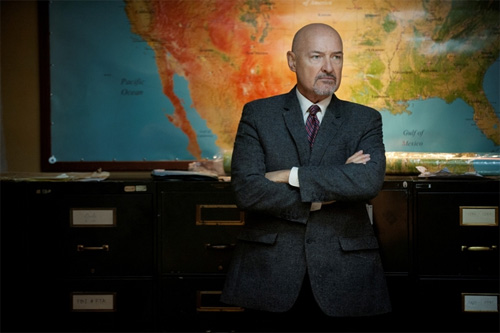 The members of the unit try to settle into their new lives and new quarters. Matt will be going to school with other kids his age. Manchester requests a meeting with Tom. Anne and Lourdes get assigned to the medical clinic. On Manchester's desk, Tom finds a bowl of fresh tomatoes. Baby steps toward self-sufficiency; a new beginning from the ground up. Manchester desires to build a new political system for the post-invasion world. He wants to recruit Tom as one of his "Founding Fathers" for the new democracy. Tom is intrigued. A confidence vote is scheduled for the next evening, a referendum on Manchester's leadership. He hopes Tom will stand with him and give his support. Tom is honored to stand with his old friend. He tells Manchester what he knows about the Skitter Rebellion. The best chance to win is to ally with them, but Manchester prefers lying low. Tom's friendship means a lot to Arthur, but he won't jeopardize what he's created in Charleston for anyone.
After they left the 2nd Mass, Jean and Diego's group was attacked by a Skitter patrol. They scattered, and Jean was the only one who made the rendezvous point. She came to Charleston, looking for help. Manchester refused to send a search party. Jean plans to speak out against Manchester at the meeting. Captain Weaver encourages her and promises he'll be there to support her.
Since she was pre-med, Lourdes has been assigned to the surgical unit. Anne is relegated back to being a "lowly" pediatrician, regardless of her reputation as the combat medic for the 2nd Mass. At lunch, Tom and Anne exchange accounts of their day which has not gone as expected. Overhearing the conversation, Jean tips them off that not everything in Charleston is as it appears. Most of the people in Charleston are not receiving the same treatment Manchester is giving Tom, Anne, and the other leaders of the unit — best food, private quarters. People sleep in tents or cubicles. Tom and Anne have noticed how everyone acts as though the aliens don't exist; how they're all living in a bubble of ignorance.
The Berserkers report for duty even as they plot to hightail it out of Charleston with as much artillery as they can carry. Pope is shocked when one of their new "officers" is Tector, cleaned up, in uniform and using his real name, Sergeant Murphy. Hal is dressed down by Weaver for showing off his ability to handle weapons. Because of his abilities and experience, Hal is likely to be put in charge of a patrol. Most of the other soldiers have never fired a weapon in combat and will be afraid. For them to fight, Hal will need the respect of his men. Suspicious of what Pope and his gang are planning, Maggie steals a pistol. Matt gets in a fight at school, that he started, and is suspended for a week. The 2nd Mass is learning that not everyone is glad the group has come to Charleston. Maggie stops Pope and the Berserkers from raiding the weapons store. But when soldiers show up, they haul Maggie off to lockup with the rest. Tector shoots and wounds one of the Berserkers.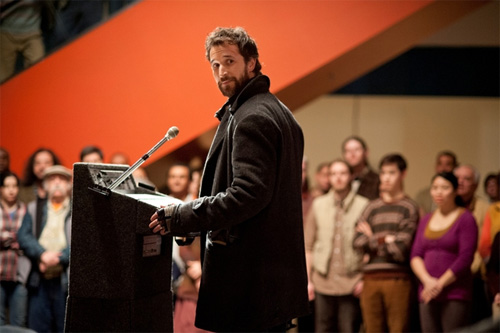 Tom appeals to Manchester. He sees the situation as a military matter. General Bressler built his army and now wants to take a more aggressive approach toward the aliens. Tom thinks the General is right. The only way to get rid of the aliens is to fight because no human will be safe until they're gone. Manchester can't afford for his authority to look weak. Tom begins to realize his old friend has his own agenda that includes staying in power.
Hal vows to free Maggie, no matter what Manchester says. She's not asking for any favors, especially from Hal. After what she told him about her past, he should have freaked out and said she was the worst person in the world. She can't believe Hal would still want her around, let alone care about her.
At the meeting, Tom reads a passage from one of Arthur's books, which is in direct opposition to Manchester's current ideals. The people have lost their true mission. He's seen the enemy, seen what they've done. The creatures will leave only when forced to. Tom vows to keep fighting. The meeting is disrupted. A harnessed boy was found at the perimeter of the city. He's been searching for Charleston and has a message for Tom Mason. Tom hopes the boy is Ben, but it's someone unknown to him. He doesn't know anything about Ben, hasn't ever met him. The boy was sent by the Red-Eyed Skitter with a message: The Skitter leader is waiting nearby and wants to talk with Tom.
Tom is willing to leave right then, but Manchester stops him. He's heard the accounts of Tom's stay on the Overlord ship, and that his son, Ben, is a de-harnessed kid working with the Skitter rebels. Weaver and General Bressler support the alliance with the Skitters. Manchester is too worried about losing the world he's built. He's concerned about what information the aliens have learned about Charleston from Ben. He orders the General to place the boy in lockup. He advocates hunkering down and playing dead in hopes the aliens will give them a pass. Tom and Manchester find they are opponents on the issue, a disagreement their friendship can't transcend.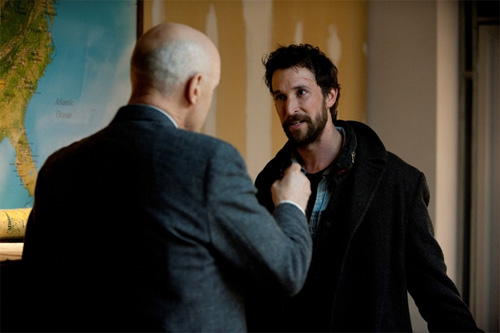 Manchester wines and dines Pope to pump him for information on Tom. He offers Pope his freedom in return. But if anyone is going to take down Tom Mason, it's gonna be Pope, no one else. Hal and Dai break Maggie out of her cell. A group from the 2nd Mass is heading out into the field to meet with the Skitter leader and Hal wants her to be a part of it. He doesn't know the Maggie she claims to be. He only knows the one who's put her life on the line countless times for the 2nd Mass. They're no longer who they used to be and have a chance to start over and become better people.
As they prepare to leave Charleston, with a little help from Colonel Porter, they are confronted by a group of soldiers that includes Bressler and Tector. The fighters, led by Captain Weaver and Tom, are forced to stand down. Bressler orders Murphy (Tector) to arrest them. He refuses and joins the fighters from the 2nd Mass. All members of the 2nd Mass are rounded up and taken into custody, by Manchester's orders. He plans to hold a civilian trial and charge Tom and Captain Weaver with treason.
Bressler enters lockdown and orders his men to unlock the cells. Other soldiers enter with Manchester in custody. Bressler declares that Charleston is under martial law. He wants Tom and the others to keep the rendezvous with the Red-Eyed Skitter. The last thing Tom meant to inspire was a military coup.
As viewers, we all knew things wouldn't be good for the 2nd Mass in Charleston. Especially when it turned out the place was run by none other than John Locke! Terry O'Quinn is brilliant at portraying the grey-shaded nuances of these "I'm not really a villain, I'm trying to be your friend" characters. His performance was what I enjoyed most about "The Price of Greatness". All in all, I was disappointed with the episode. For the penultimate of the season, and the setup for the season finale showdown, the pace and action was too slow for my taste.
Nothing unexpected happened, and the unexpected twist has become one of the things viewers expect from Falling Skies. Charleston wasn't what it appeared on the surface, and the 2nd Mass wasn't welcomed with open arms. The only scene that truly surprised me was when Pope showed his loyalty to the 2nd Mass and refused to give up Tom Mason. I understand there was only one episode to try to show what was happening in Charleston, but with all the buildup and previous tension surrounding that goal, the episode fell flat. In the season finale, I'm sure the unit will have to save the butts of those living in Charleston and be willing to lose their own lives to achieve it. The promos have promised action-packed thrills and a last five minutes that will leave viewers waiting in agony for Falling Skies, Season 3.