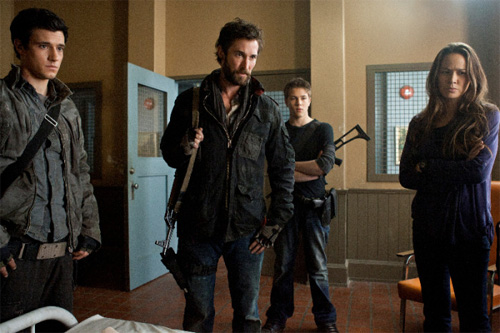 Episode: Falling Skies 2.06 – "Homecoming"
Original Air Date: July 15, 2012
Screencaps by Dare to Believe
In the Falling Skies season opener, Tom Mason discovered the reason for the alien invasion and subsequent devastation of the Earth, expressed to him by one of the Overlords, "Oppression is in your [humans] nature." Another discovery Tom made on board the alien mothership was the presence of Karen, Hal's past girlfriend. Karen is harnessed now and in servitude to the Overlords. In the episode "Homecoming", Karen returns. But what are her motivations? Is she really the same Karen, or has she been changed during her time as an alien captive? The best way to sum it up, echoing Wil Wheaton: "The good news is they find Karen. The bad news is they find Karen." Wheaton made this remark as host of the Falling Skies companion webisodes, "Second Watch". After each episode, cast and crew join Wheaton for interviews and discussions. It's a nice way to peek behind the curtain of the Falling Skies world. Check it out at fallingskies.com.
Tom and Anne share quiet moments as they prepare to start their day. The 2nd Mass has camped in the hospital facility for two weeks. Two weeks of stability that has made their lives seem almost normal again. It feels nice. They reminisce about the normal things they miss, like the smell of coffee brewing.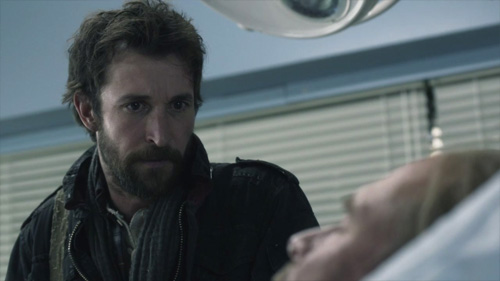 At the morning briefing, Captain Weaver collapses in convulsions from the effects of the harness creature bite. Tom finds out Anne has been treating the Captain, trying to stop the venom from spreading. Captain Weaver had ordered her not to tell anyone else. Upset, Tom says they could have pushed harder for Charleston. Maybe there would be doctors there who knows what to do about the bite. Even worse, in the heat of the moment, he calls her by his deceased wife's name. Weaver gives command of the 2nd Mass to Tom, who orders Anne to stabilize and prep the Captain for moving out. The unit will leave for Charleston that night. He leaves to give orders to the rest of the group, leaving behind a bewildered, hurt Anne.
On patrol, Maggie and Hal happen upon the bodies of deharnessed kids dumped in the woods. Only one is barely alive, and it's someone Hal knows well — his ex-girlfriend, Karen.
Captain Weaver is in serious condition. The best chance, as Tom sees it, is to push for Charleston. The problem is Jamil has been using the fuel from the vehicles to power the hospital generators, on orders from Weaver. There's not enough left to get the 2nd Mass the rest of the way to Charleston. Scouts have been searching for fuel depots, but have been coming up empty. In fact, there's only enough fuel left to power the generators for another 12 hours, at maximum.
Matt rushes in with news for Tom. Hal and Maggie are back and need him right away. They found Karen. As they rush her to Dr. Glass, Ben objects. They can't let her stay. She's still attached to the aliens even though she doesn't have a harness anymore. He reveals he knows because he can still hear and communicate with the aliens too because of his spikes. This news from Ben isn't received well by the 2nd Mass, even by Hal.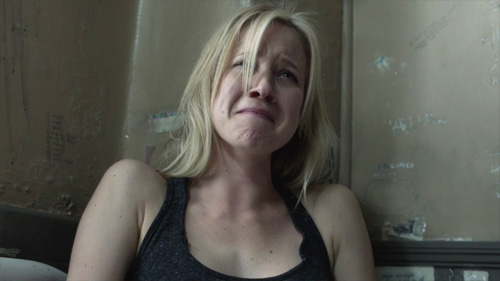 Tom decides to hold Karen in the psych ward. She'll be in a secure room. Karen comes to, frightened and disoriented. The only person she appears to recognize is Tom. She has memories of talking to him on the spaceship. The members of the 2nd Mass have questions and concerns about Karen's presence. She can't remember much about how she and the others ended up in the woods. Her guess is that she and the others had served their purpose to the aliens.
Ben is skeptical of Karen's motives and volunteers to be one of her guards because he won't be susceptible to any manipulation since he was once harnessed, also. Hal questions him about it. Ben claims Karen is no longer the same person, and he knows it because he's no longer the same after his experience. Hal is frustrated that Ben won't give Karen the benefit of the doubt. But Maggie agrees with Ben.
Despite Dr. Glass's best efforts, Captain Weaver is getting worse. Tom orders Anne to get Weaver ready immediately to be driven straight to Charleston. She counters that Tom isn't allowed to give her orders. They quarrel. He's in charge of the 2nd Mass now, so she should obey his orders. She's been the doctor since the beginning of the 2nd Mass, before Tom joined. She decides the best course of action for any patient. Tom has realized one important thing. The 2nd Mass can't hold together without Weaver's leadership — "spit, glue and sheer willpower". If they're going to survive, he needs to survive. Anne offers a compromise. Give her till midnight to come up with a plan, and if she hasn't, they'll do it his way.
Karen tries to make conversation with Ben, but he's not interested. She can fool the others, but not him. He can hear her, so she's still connected — like a radio or television with static. What she remembers is feeling forced to witness horrible things while powerless to speak out. Ben admits he remembers the same feeling, and he was only paired with Skitters. Karen had been controlled by an Overlord, ten times stronger.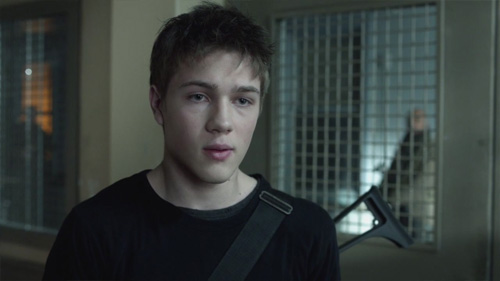 Dr. Glass and Lourdes have a plan. Heat slows down the parasite coursing through Weaver's system. They plan to pump out his blood, heat it to a temperature that will kill the parasite, cool it and pump it back into his body. With Jamil's assistance, they should be able to create a device capable of performing the procedure. Tom gives the go ahead, but also gives orders to keep prepping to move out for Charleston. A patrol brings in Anthony and Pope, found injured on the side of the road.
Ben brings food to Karen inside her room. She asks Ben about the 2nd Mass's plans, but he doesn't know. They won't tell him that kind of thing. Karen is developing the same kind of superhuman skills Ben has. She shows him how she can lift her bed up using only one hand. When they move close to each other, their spikes glow and they feel a deep connection. Hal walks in on their almost embrace and demands to know what's going on. Karen faints, and Hal blames Ben for doing something to her.
The medical team is ready to begin the procedure, but it's going to take hours. Tom pulls Anne aside and apologizes for treating her like an underling. The power fails. The procedure will have to be completed manually, increasing the danger to the Captain. Dai and Tector find depot with enough fuel to ensure the distance to Charleston.
Hal confides in Maggie. He's worried about what will happen to Karen if they don't do something. Maggie thinks something bad will happen if they don't do something about Karen. Hal believes Ben is trying to recruit Karen for the so-called Skitter rebellion. Concerned about Hal's feelings about Karen, Maggie relieves the guard on duty. She goes inside the room and pulls a set of pistols on Karen. They're gonna have a "girl talk". Maggie demands Karen leave the 2nd Mass and the Masons alone. Karen's demeanor changes from the innocent victim front, and she tries to manipulate Maggie. Maggie shoots, but Karen is faster and body slams her to the ground, tearing the stitches in Maggie's abdomen.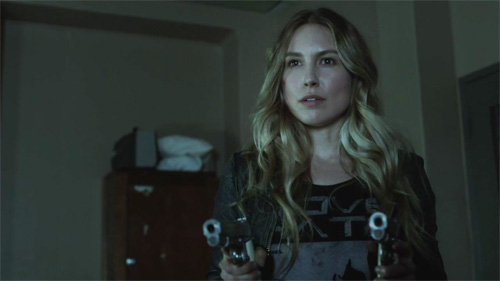 Ben hears the commotion and rushes in. Karen pretends that Maggie attacked her. Ben believes her. They're not safe with the 2nd Mass anymore. But he knows where they can be safe and accepted for who they have become. They leave the room and leave Maggie bleeding on the floor. Ben leads Karen to the roof. Hal tries to stop them. Ben grabs Hal in a chokehold until he passes out. Holding hands, Karen and Ben leap from the roof to the ground and land on their feet, unharmed.
The procedure works and Captain Weaver is out of immediate danger. But there's still a lot to be done before the Mass can leave for Charleston. Tom is stressed over it, but Anne reassures him they'll get through it — together. Pope, now conscious, informs Tom that aliens led by a "fishhead" (an Overlord) are searching for the 2nd Mass, and more specifically, for Ben. Karen was with the aliens at the time, two days ago, and told the Overlord Pope was from the 2nd Mass. Tom doesn't understand what they would want with Ben. Pope overheard "some crazy talk" about a Skitter Rebellion. The aliens believe Ben is a key part of it. The fighters, led by Tom, rush to the secure room and find the injured Maggie. On the roof, Tom finds Hal, still unconscious. Karen, with Ben in tow, has fled.
The tense excitement ramps up with every episode. As the second season turns toward its climax and conclusion, each episode leaves the viewer on the edge of the couch, barely able to stand a week's wait for the next episode. Falling Skies has become one of the most exciting of the current genre shows. If you haven't been watching, you need to catch up, quick, before the season ends and you don't know what everyone is talking about.