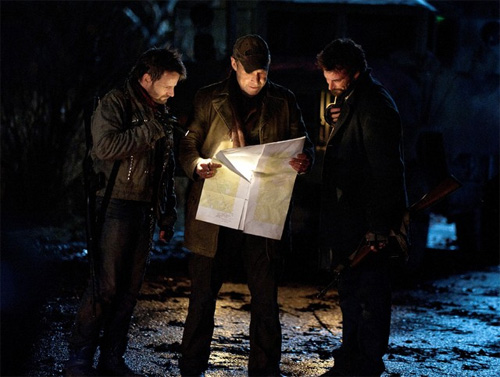 Episode: Falling Skies 2.08 – "Death March"
Original Air Date: August 5, 2012
The 2nd Mass marches onward to Charleston in "Death March". This Falling Skies episode is a literal road trip. All the action and revelations occur as the unit travels. An episode of this nature is difficult to keep interesting and moving, but "Death March" contains the adventure and angst we expect and love from Falling Skies. In this installment, Matt makes a new friend, and Weaver discovers Tector's pre-invasion past.
It's the final push to Charleston. The convoy rolls down the lonely, deserted highway. Tom reflects on his good-bye with Ben. Matt hands Tom a sheet of paper. It's his will. He has overheard others saying they will all die before reaching Charleston. Tom assures him they will reach Charleston; not a question of if, but when.
Captain Weaver picked Tector (Ryan Robbins) as his driver for the trip. He's surprised because he's not exactly the spit and polish type. Weaver picked him so he could spend the time finding out what "type" Tector is. Hal and Maggie have been sent ahead as advance scouts for the unit. The only problem is they had to take Pope with them. Irritated by his antics, they pass the time thinking up creative ways to kill Pope. Maggie claims Hal doesn't have it in him to kill someone; there's not enough dark in his soul. She dares him to confess the darkest thing he's ever done. Hal has no answer for her. In the med bus, Tom assures Anne all the rough stuff is behind them — "all downhill from here". Because he says it, we all know it isn't going to be true.
Weaver has noticed Tector works double time to come off as a good ole country boy, but he handles a sniper rifle like a soldier who has trained with the best. He doesn't understand why Tector would wish to hide his military background. It matters because he's serving under Captain Weaver. The Captain needs to know he can trust Tector, which he doesn't yet. The truck collides with something large. They stop to check the situation. A harnessed girl lies unmoving in the road.
The girl is unconscious, but appears to be all right, otherwise. Dr. Glass reports the harness probably has internal damage, and isn't working. Tom and Captain Weaver debate whether they should take the girl with them. Tom feels they can't just leave a child behind. After Karen, Weaver is wary of having another enemy agent on his hands. The girl wakes, in pain and asking for her brother. She grasps Captain Weaver's hand. His humanity won't allow him to abandon her. He gives orders to secure her in the back of the med bus.
Maggie and Hal discuss what they hope for in Charleston. Hal hopes Ben will show up. Maggie is sure Ben will come back. Sometimes you just have to hope that fate throws you a favor every once in a while. It happened to Maggie. She thought she'd never recover from her life before she found the 2nd Mass and Hal. The truck overheats. The radiator needs more water. Pope knows where a river is, not far away. He remembers it from taking his kids on trips to Florida before the invasion. Hal and Maggie are astonished by Pope's revelation of a family.
Anne doesn't think the girl poses any danger to the unit. Even after the aliens are kicked off the planet, there will still be changes to deal with like the harnessed kids. Matt brings the girl food. He tells her about Ben. They start to bond and seal their friendship with a handshake, but Jenny's hand no longer looks completely human.
Pope finds a hole in the radiator hose. Hal is concerned because they've gone way off course to find the water. He goes to collect water while Pope works on the truck. It leaves Maggie alone with Pope, who has always hinted of knowing something bad in her past. To Maggie, nothing good can come from telling Hal her past. Pope promises he won't tell Hal, but Maggie owes it to Hal to tell the truth if she cares about him.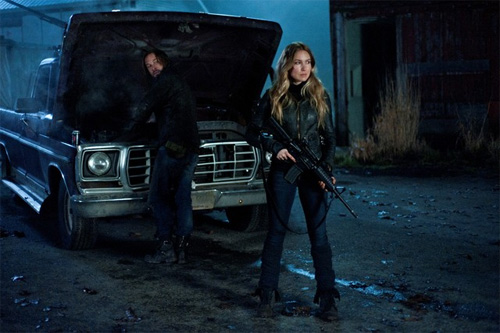 Jenny tells Matt her history. She refers to her joined Skitter as her Guardian, claims to have loved it and been loved in return. She and the other joined kids became a family. Then humans killed all of them except her and her brother, Tyler. Matt reminds Jenny she is a human.
Captain Weaver ferrets out that Tector is an ex-Marine, a gunnery sergeant. Weaver wants to give him a leadership position when they reach Charleston. Tector's plan is to see the 2nd Mass safely to Charleston, then push on. He has his reasons, and that's all he'll say.
Matt shows Jenny his journal. She'd like to come with them, but she knows how others feel about her as a harnessed kid. She reacts and tells Matt her brother Tyler has come. Something large hits the side of the bus. Tom and Anthony come with guns drawn but she begs them not to shoot. When they search outside, they find no sign of any creature.
Pope gets the truck started again. But they're an hour behind schedule and probably behind the main convoy. Hal knows something happened between Maggie and Pope while he was getting water, no matter how much she denies it. Finally, she reveals her past to Hal. After her brain surgery, she fell in with a bad crowd, even "badder" than Pope's crew. She went to prison for theft. In prison, she discovered she was pregnant. She had the baby, but he was taken from her.
Tom and Weaver have realized Hal and Maggie are missing. For 250 miles, they've seen no signs marking the route to follow. Weaver promises to come back and look for them after the 2nd Mass reaches Charleston. Tom isn't happy about the plan, but they're in the home stretch to Charleston.
Something jumps on the back of the bus. Matt promises to protect Jenny. But she wants to go with her "brother", who is obviously not human. Her harness powers up. She breaks her chain, pushes Matt down and runs off the bus. Matt's all right, a bump on the head. He asks Tom if Ben loves the Skitters more than he loves them. Tom promises if Ben doesn't come back, they'll go find him.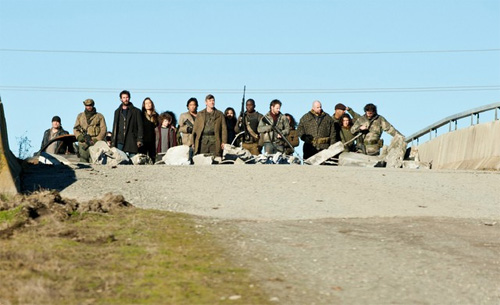 After Maggie's revelation, Hal has been quiet. He needs time to think, to take it all in. Maggie will give him all the time in the world, 'cause she'll be gone. Spot lights flood the truck.
The scenes with Maggie and Hal and between Captain Weaver and Tector were my favorites in "Death March". It gives the opportunity for stellar acting from all involved, and the quartet hit it out of the park. Props to Will Patton and Ryan Robbins as Weaver and Tector for tense, emotional scenes played out while confined to the cab of a vehicle. The scenes between the two are the most memorable in the episode. But the next scene between them ripped my heart, and is in my opinion, the best one.
Tector doesn't believe he's fit to lead anyone. In Afghanistan, he led his patrol straight into an ambush. He blames himself for the loss of his men. In an uncharacteristic outburst, Weaver accuses Tector of killing his men. He accuses Tector of murdering Boone. He was there. He knows the truth. The tactic breaks through the wall Tector has built. Weaver and Tector connect, and he's able to reassure the younger military leader it wasn't his fault people died. Weaver confesses that after Fitchburg, he almost ran away and left the 2nd Mass. What stopped him was the knowledge that all the people were confident he would be there to lead them. He knew they needed him. They need Tector, too. The convoy screeches to a halt.
The 2nd Mass has arrived in Charleston, or rather, what's left of Charleston — a burned-out ruin. The people are devastated and losing hope. They wanted Charleston to be true, to be real. Weaver has failed as their leader. Tector has the chance to repay the Captain. He points out that the unit needs Weaver more than ever. Weaver doesn't know what to say. Respectfully, Tector suggests he make something up. Captain Weaver delivers a rousing speech to the 2nd Mass. They'll go on, find a place, and build the community they hoped to find there.
As they dismiss to reload the vehicles, they hear someone in the brush. It's a regiment from the Continental Army, led by an old friend of Weaver's, Colonel Porter. He gives Weaver a present — a bag of fresh strawberries. Their patrol was the one that found Hal, Maggie and Pope. Charleston does exist. Letting the city remain in a burned-out condition is their way of hiding it from the aliens. Overjoyed, the 2nd Mass heads into Charleston. They no longer fight alone. But it is all too good to be true?