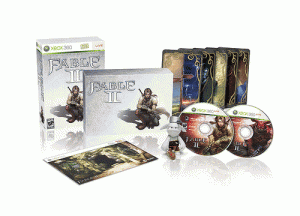 Fable II topped my recent list of my most anticipated video games, and it's still the game I'm practically foaming at the mouth to play. Sure, Peter Molyneux might have fooled me once with Black & White. Or twice with Black & White 2. Or three times with Fable. Or… okay, enough, Fable 2 is going to be awesome. End of story. And now we know exactly when to expect that awesomeness to be landing on the XBox 360.
October 21 is the official release date, and courtesy of the Gamerscore Blog, here's a rundown of what goodies you can look forward to if you pick up the limited edition:
DVD with "Making Of" feature
Extra in-game content, including a new dungeon, an additional weapon, and an "Otherworldly Bonus"
A special edition Hobbe Qee figure
48-hour XBox Live Gold trial code
Five printed Fate cards
The regular edition will be $59.99, and the limited edition will be $79.99. Both editions will net you a free download code for Fable 2 Pub Games if you place your preorder while supplies last.
Source: Gamerscore Blog