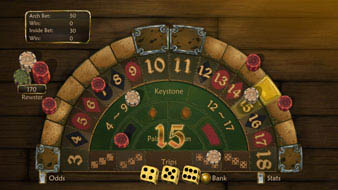 The official XBox site has announced more details about the pub games that previously were announced for release in conjunction with Fable 2. Fable 2 is scheduled for release on the XBox 360 later this year, and preceding its release will be a series of gambling games that you'll be able to download and play via the XBox Live Arcade. Gold you accumulate through those games will be transferable to your Fable 2 character once you get the full game. Gold really will be an in-demand commodity, considering that Fable 2 will allow you to buy literally anything and everything in the game world, from weapons to buildings to towns to kingdoms.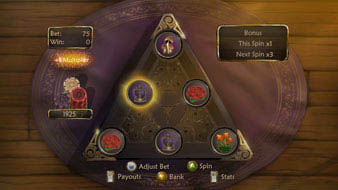 The new announcement shows off some new screenshots and also specifies that the Fable 2 Pub Games will be one downloadable game that includes three mini games:
Keystone: A combination of Craps and Roulette
Spinnerbox: An updated take on Slot Machines
Fortune's Tower: A "press your luck" style of game
There also will be a "Shell" tutorial of all three games for new players.
The most interesting announcement is that you'll receive a free download of the Pub Games if you preorder Fable 2 before its release. If you don't preorder, you can get Pub Games for 800 Microsoft Points (but why would you play it if you weren't going to be building your bank for Fable 2?).
Fable 2 Pub Games will be downloadable on the XBox Live Arcade in August.
Source: XBox.com